Real Estate Investing is a Team Sport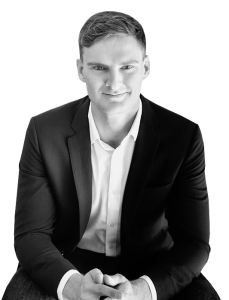 A lot of us believe we need to be self-sufficient to be an entrepreneur. We don't want to be chained to a desk job, and the freedom of passive income is alluring. The overnight-success stories and the legends about entrepreneurs who make it big often convey a one-man-show kind of vibe.
But no man or woman is an island.
Napoleon Hill knew this. In his famous book Think and Grow Rich, he tells the story of Henry Ford and his super-smart team, who took care of the day-to-day work so Ford could focus on controlling the business.
Engineers know this too. Large-scale structural and building works don't happen without a team.
Perhaps that's why today's guest, former engineer Reed Goossens, was able to build a massive portfolio in just a few years as an entrepreneur. Originally from Australia, he moved to the US in 2012 to pursue the loves of his life: a Californian named Erica, New York City, and real estate investing.
Reed is a multifamily syndicator and owner of RSN Property Group. He started with a triplex that he bought with cash, and 3 years later has been involved in 50 million dollars worth of real estate, has his own podcast and is about to launch a book.
So how did he do it?
Reed comes from what he calls a very middle-class family in Australia. His parents are both teachers, but even from the age of 7 years old Reed had entrepreneurial dreams. His first venture didn't take—selling sandwich bags of dirt to the neighbors for 20c each—but that didn't deter him.
In 2008, after he graduated from his engineering degree, Reed moved from Australia to London to work on the preparations for the 2012 Olympic games. After a year, the lure of travel was too strong to resist so he spent some time backpacking and working in the South of France. It was there, while working on super-yachts, that Reed met an American girl on a beach. The travel bug eventually drew him to the USA, where he reunited with that girl from the beach, and fell in love with both her and the city of New York. In 2010 he moved back to Australia and she followed six months later. After all the high of that amazing world trip, Reed found himself sitting at a day job at 25 years old saying 'what the hell?' He didn't subscribe to that way of life and knew he couldn't sit in a cubicle for the next 50 years.
Being a civil engineer, Reed likes numbers, so he knew he had to get his money working for him. In early 2010, he picked up the book Rich Dad, Poor Dad and he finally understood what an entrepreneur is. His own Dad had also suggested he look into real estate investing because with the engineering background, it was a logical step. And so, Reed started to figure out what he wanted to pursue for the rest of his life.
He began attending real estate networking events in Australia. But when Erica moved back to the States, Reed followed and he found himself unemployed in New York in early 2012. After door knocking and cold-calling, he found himself a job in an engineering firm. Wanting to keep the fire in his belly, he also attended real estate events, where he soon realized the barriers to entry in American real estate are much lower than they are in Australia.
The Rich Dad, Poor Dad Effect
Something about reading that book shifted things in Reed's mind and put everything in perspective. However, he believes you have to be in the right time and place in life to receive the information. He has friends who say they read it 'too young' and it didn't sink in for a decade. The idea of breaking free is the real philosophical point of view in the book that's great. It doesn't give a lot of answers on the action side of things, though.
That's where Reed's advice is to education yourself, play the game of cash flow, build that fire in your belly and take control of your life. The 9 – 5 model is depressing to Reed, so his goal was to get his money to work for him instead of the other way around.
It takes time. He read the book in 2010, but didn't close on a deal until the end of 2012. There were a couple of years in between of moving across the world, and this is the real accomplishment in his mind that he is most proud of. Reed had a goal, backed himself and went out and achieved it. Being Australian, that first real estate deal also involved learning a lot about America but he knew he had to do it or risk getting stuck in the analysis paralysis stage. You can go to seminars and do bootcamps and find mentors all you want, but you eventually have to learn by getting your feet wet in that first real deal.
The Australian Abroad
Being new in the States, Reed had no credit history, so he had to buy that first property in cash. He saved up the money, chose a market within driving distance of New York, found a property there and got the first deal done.
The first deal was a triplex that Reed picked up for $40,000 in cash, then put $10,000 into renovations and rented it out for $1200 per month each. It went really well for about 7 months, until some issues with Section 8 tenants made things difficult. Reed says he learned a lot, including the power of sprucing the property up to increase the rent $60 per month across each unit. It was making cash flow, and loved the power of that increase over 3 units. He also had to learn how to underwrite the property and build a team on the ground.
By 2013, Reed had done a few flips and ran out of his own money. But he had a small portfolio of small properties, which allowed him to eventually get some credit with the bank and start syndicating. That's when Reed started RSN Property Group. He loves the passion of multi-family syndication and now applies the lessons he learnt from the mistakes he made in that first deal to be highly successful.
Real estate investing is a team sport
Looking back on that first triplex, Reed says the team wasn't the best that he could have gotten in terms of transparency and reporting. The biggest learning point was investing in that type of asset, because under 40K the property manager is only getting 7-8% of the gross, which works out to not even $100 per month. That kind of situation doesn't promote professionalism in the way commercial real estate does. The benefits of having a property management team for a 100-unit building far outweigh having a single property manager for a triplex, so Reed knew he wanted to get into commercial real estate. There's also a larger piece of the pie to go around, which promotes more professionalism among the property management team.
There are other benefits too. The valuation is based on a business, so the bank looks at it on net operating income rather than the cost of real estate in the local area. Add to that the fact that you are multiplying rental premium by 100 units rather than 3 and the economies of scale start to become obvious.
A general contractor and a really good broker are also essential. An attorney or lawyer may not be needed day-to-day but are also vital, as is the bank. Reed credits his good relationships with the bank and his team on the ground (general contractor, broker and property manager) with making sure everything came together nicely. As you become more experienced, you become more astute as to knowing what you need from them, but they also take you more seriously over time too. If you're a newbie, you're not going to see the cream of the crop deals straight away so spend time building relationships, showing them what you've got. It's the grind beforehand that's key: be consistent, don't give up.
A day in the life
Reed has a consistent morning routine and daily habits that help him stay on track towards his goals. He uses Grant Cardone's 10x rule, and journaling. Every morning after walking the dog, Reed looks at his calendar, plans his day and then writes out his goal for the year. He is a big believer in not trying to overload your plate. If you're going to start something then finish it in that day. He likes to hit 2 or 3 major goals or milestones in a day.
Reed also prioritizes taking care of himself and looking after his body first. He says if you look after your body first, and take care of your others second, your business will grow. So he creates times for loved ones, works out 4 or 5 times a week, eats very healthy and likes to read of a night time.
Before The Millions Book Recommendation
Of course, Reed suggested Rich Dad, Poor Dad by Robert Kiyosaki, followed closely by The Four-Hour Work Week­ by Tim Ferris.
Before The Millions Sacrifices
Reed says the sacrifice is the time and hustle that it takes. Before he started he had a lack of understanding how long it was going to take to get there and so it's important to set the right expectations there up front. He is striving but that was that underestimation on the front end was the hardest part. Just keep hustling.
Before The Millions Essential Influencers
Reed says his mentor was essential, but he didn't always understand he value of having one. If you get someone who has done what you want to do, you can learn from them and get there faster. If you've got to pay them, it's worth it. You can then leverage their skills and abilities, leverage them to get in a larger deal you couldn't have done yourself or get an introduction to someone. He says it has been vital for his growth as an entrepreneur, and now he's at a point in his career where he can pay it forward and mentor others.
Getting Unstuck Before The Millions
Reed believes the reason so many people are stuck is that they are just lazy. It does go back to underestimating the amount of work it takes to do it, but also people don't want to do the hard work, stay up until midnight, work on the weekends. He's more afraid of regret that about failing from trying, though, so his advice is to back yourself and do it.
So what are you waiting for? Get out there!