Posts Tagged 'facebook ads'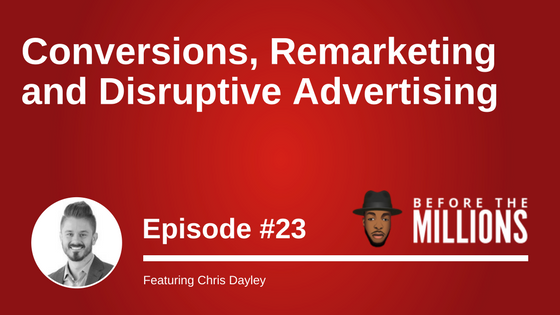 Podcast: Play in new window | Download
On this episode we welcome Chris Dayley, a highly successful entrepreneur in the digital marketing space. Chris is the founder of Dayley Conversion, an A/B testing guru, CRO speaker, and User Experience proponent. He started his own company with the ultimate goal of achieving lifestyle design.
Chris eventually got the opportunity to merge his company with Disruptive Advertising, a digital marketing company whose mission is to improve lives through results based relationships. The company specializes in three key areas; PPC management, site testing and optimization, and analytics.
Chris envisions a world where every business tests their ideas, where touching a computer screen doesn't leave a fingerprint, and where lightsabers are real. He is always pushing the boundaries of A/B testing and disrupting the website design space. His story is truly amazing, so stayed tuned as Chris teaches us about conversions, where to get your website traffic from and how to capitalize on leads.
Key Points From This Episode
When Chris first knew that it was time to start his own company.
The importance of setting specific goals and giving your all to an opportunity.
Understanding the idea of A/B testing and conversion rate optimization.
Challenges Chris faced when he first started his business.
Developing the skills to transition towards growing your business.
How Chris used mediation to process every challenge in his life.
Knowing when to hire people to support the growth of your business.
Focusing on creating processes and systems to successfully delivery consistent quality.
Successfully navigating a merger and making a significant impact.
What Disruptive Advertising offers and Chris' role within the company.
Understanding the value of capitalizing on conversion rate optimization strategies.
Using Facebook marketing to build awareness around your product.
Taking advantage of retargeting and create conversions for your business.
Understanding what a conversion means for different companies.
The benefit of testing to determine the most effective marketing message.
The best strategy for split-testing; what works best for your business.
Retargeting and remarketing from a PPC standpoint; Facebook and Google.
Tweetables: 
Links Mentioned in Today's Episode:
– Before The Millions Facebook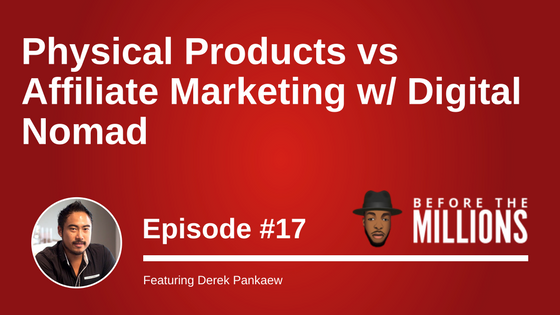 Podcast: Play in new window | Download
Today we welcome Derek Pankaew, Performance Marketing Manager at KIND and Co-founder of Flexr, the world's first foldable, travel-friendly pullup bar. Derek is also the founder of E-Commerce companies such as FoosballPlanet.com, an online site for all things foosball tables, and Nutrabear, a vitamin gummy bear company. Derek has years of experience with organic and paid marketing channels and was responsible for managing the supply of these products in addition to sourcing manufacturers and suppliers. He's sold multiple six figures in information products, and has done the same with physical products.
In this episode Derek discusses how he got involved in the digital marketing industry and what led him to starting successful e-commerce companies. He also talks about his latest venture, FLEXR and gives advice and tips to anyone wanting to get into the e-commerce world.
Key Points From This Episode:
At what point Derek decided to drop school and someday become an entrepreneur.
How Derek grew his skillset in the internet marketing space.
When Derek started utilizing his skills to create his own business.
Hear how Derek started off in affiliate marketing and why it's difficult as a first-timer.
The transition from affiliate marketing to e-commerce.
Why it's easier to sell physical products than digital products.
Understanding Derek's WHY for building big businesses.
The importance of paying attention to the long term.
Discover how FLEXR came about.
How Derek incorporated the Nutrabear business model to be successful.
Find out what a typical day is like in the life of Derek.
Hear about Dan's travel rewards course, Travel Hacking.
Understand why Peter Thiel's book, Zero to One is one of Derek's favorite books.
Discover where Derek invests his money.
Derek's mentors throughout his career that have helped him get to where he is today.
Getting into e-commerce and learning through doing. 
Tweetables:
Links Mentioned in Today's Episode:
— FLEXR
— Robert Kiyosaki's book, Rich Dad, Poor Dad
— Get Free Flights With Travel Hacking!