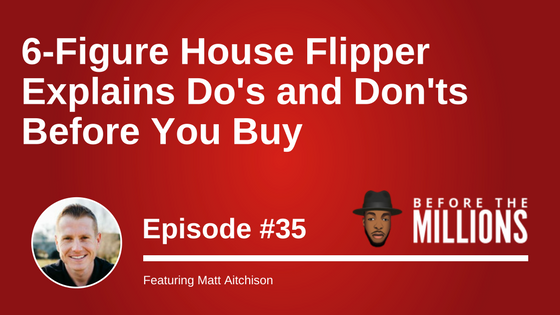 Podcast: Play in new window | Download
Wait! Before you invest or even flip your first property, there are a few things you should know. On today's episode we interview a millionaire a few times over but more importantly an expert at "6-Figure House Flips".
Matt Aitchison, a millennial entrepreneur, 7-figure real estate investor, speaker and avid adventurist. He overcame criminal charges, committed to doing the extraordinary on a daily basis, and decided that entrepreneurship would be his vehicle of choice to unlock the life he'd always dreamed of.
Fast forward to today, He has started several 6 and 7 figure businesses, he's traveling the world, he get to work with some of the brightest minds on the planet, and most importantly, we've been able to sit down with him for an interview and share with you some of his greatest tactics.
Topics discussed on today's episode:
How to get into your first flip
The value of a mentor
The right way to win over a potential home seller
The transition from flipping to investing
Links mentioned on today's episode: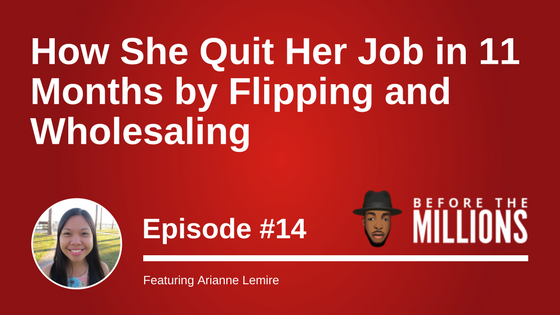 Podcast: Play in new window | Download
On today's show we welcome Arianne Lemire. Ari is a real estate investor, entrepreneur and Realtor in the Florida panhandle. Ari runs a company, GH Houses specializing in fix and flip properties as well as wholesaling. Coming from the Philippines, Ari has been living in the US for the past 3 years and she's been involved with real estate investing for the last 18 months.
Ari is an outstanding example of pure will in that she went from being being a Medical W2 worker to quitting her job in the span of 11 months. In this episode we get more into Ari's story, she shares with us on how she got started in real estate, her journey to reaching her goals and we discuss her why.
Key Points From This Episode:
Ari tells us more about her background and what she's currently focused on.
How Ari was able to save money to invest in real estate while paying off student loans.
Learn how Ari gained real estate education through online research and Bigger Pockets.
Find out why Ari went from rental properties to flipping houses.
Listen as Ari explains how she set goals for herself and only once she reached her goals did she decide to quit her job to go into investing full time.
Understand what Ari's mindset was like for her to be able to quit her job in 11 months.
Discover how your why can be a strength and a weakness at times.
Ari tells us more about her current goal of being able to give $1 million a year to charity.
Hear how Ari wants to build a community for people with special needs.
The differences between fixing and flipping and wholesaling.
Find out why it's important to choose one direction to focus on in the real estate market.
Ari explains the intricacies of her business, how they got started as a renovation company and how their focus has changed over time.
Chris's role in the real estate developments as he is currently a full time software engineer.
Discover how Ari works with investors looking for more short-term ways to diversify.
Ari's best deal to date with their second property they bought.
Hear about one of Ari's more challenging deals where she still managed to come out on top.
Discover what lessons Ari has learned through dealing with challenges in the business.
Advice on getting started and entering the real estate game.
Letting go of your fear of failure so that your business can grow and expand.
Discover what sacrifices Ari had to make to get to where she is today.
Listen as Ari shares why people are stuck before the millions because they aren't able to take responsibility and they don't know their why.
Tweetables:
Links Mentioned in Today's Episode:
Arianne Lemire – http://www.ghhouses.com/
Bigger Pockets – https://www.biggerpockets.com/
Bill Allen – http://blackjackre.com/
Robert Kiyosaki's book, Rich Dad, Poor Dad – https://www.amazon.com/Rich-Sharon-Lechter-Robert-Kiyosaki/dp/B007CIHXFS/
Scott Trench's book, Set for Life – https://www.amazon.com/Set-Life-Dominate-American-Dream/dp/0997584718/