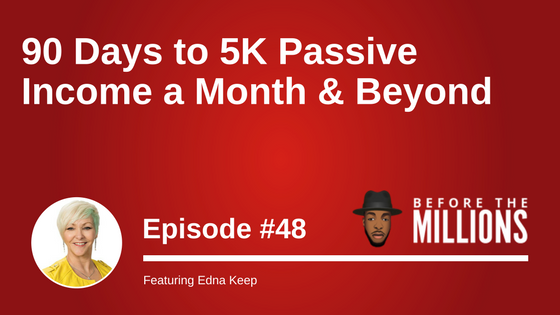 Podcast: Play in new window | Download
Have you heard of the Rule of 97? In 1897, 97% of Americans were employers. By 1997, 97% of Americans were employees. A new time is upon us and another major shift is coming. As we continue to leverage the power of the internet and technology, it's easier than ever to become a location independent entrepreneur and investor. We discuss this immensely in this weeks' Tip of the Week.
Even more profound, on todays show, today's guest Edna Keep and I are going to show you the path to 5k in 90 Days.
Edna Keep's journey from single mom at age 16 – living in subsidized housing
with a daughter in subsidized daycare – to multi-millionaire Real Estate
Entrepreneur and Coach inspires others. Her major operations are long-term
buy-and-hold rentals apartment buildings. Her claim to fame is a $60 Million
real estate portfolio built with "Other People's Money."
She is the author of Multiple Ways To Wealth: Creating Your Prosperous Lifestyle
and real estate investment teacher, has a deep understanding of what investors
want in a deal. As a former financial advisor, Edna helps connect investors with
everyday people who want to create true passive income for the long term.
We share a passion for helping individuals hit their first milestone of 5k in passive income and we breakdown exact how you can achieve this in 3 easy steps:
Build a "Power" Team around you to do the heavy lifting (most important – you need a mentor to be apart of that team).
Shift your MINDSET -> You are the prize!
GO BIG (we'll define this in the episode)
Links mentioned in the show:
Why "A" Students Work for "C" Students and Why "B" Students Work for the Government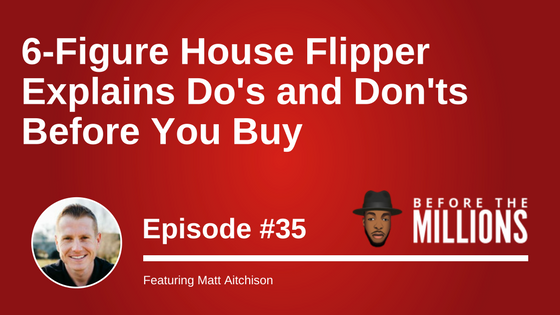 Podcast: Play in new window | Download
Wait! Before you invest or even flip your first property, there are a few things you should know. On today's episode we interview a millionaire a few times over but more importantly an expert at "6-Figure House Flips".
Matt Aitchison, a millennial entrepreneur, 7-figure real estate investor, speaker and avid adventurist. He overcame criminal charges, committed to doing the extraordinary on a daily basis, and decided that entrepreneurship would be his vehicle of choice to unlock the life he'd always dreamed of.
Fast forward to today, He has started several 6 and 7 figure businesses, he's traveling the world, he get to work with some of the brightest minds on the planet, and most importantly, we've been able to sit down with him for an interview and share with you some of his greatest tactics.
Topics discussed on today's episode:
How to get into your first flip
The value of a mentor
The right way to win over a potential home seller
The transition from flipping to investing
Links mentioned on today's episode: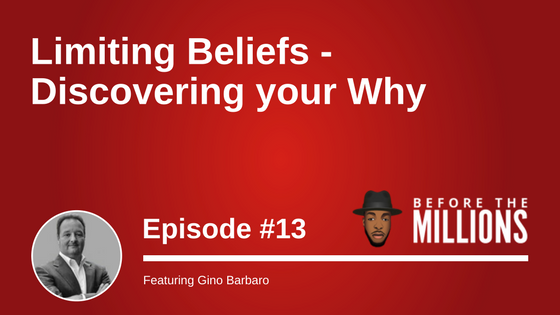 Podcast: Play in new window | Download
Gino Barbaro is a licensed realtor, investor, business owner and entrepreneur.  He has been investing in real estate for 15 years and has grown his portfolio to 675 units valued at over $32 million in 3 years. He has teamed up with Jake Stenziano to create JakeandGino.com, a real estate educational company that offers coaching and training in real estate investing. He is the bestselling author of Wheelbarrow Profits, as well as the author of the best-selling cookbook, Family, Food and the Friars. Gino is a graduate of the Institute for Professional Excellence in Coaching (IPEC) and is a Certified Professional Coach.
In this episode we get into a lot of Gino's story, the restaurant business he was in for 25 years and how he turned his sights onto real estate and multifamily investing. We also get into belief systems, discovering your why, and setting out your goals. Next, we unpack the importance of understanding how you can best achieve your goals based on your why, depending on whether or not your why is moving away from pain or towards pleasure.
Key Points From This Episode:
Gino tells us how he got into the restaurant business 25 years ago.
Hear more about the 4 energy blocks.
What lead Gino to challenge himself to become successful.
The reasons why Gino decided to leave the restaurant business.
Listen as Gino explains how he turned toward real estate.
Understand the differences between single family and multifamily properties.
How asking thought provoking questions extracts the "why" out of Gino's students.
The importance of having a strong reason why, no matter what you do in life.
How Jake and Gino have made their partnership work.
The characteristic that made Gino want to partner with Jake.
Find out how you can get into multifamily real estate.
Listen as Gino explains his short and long term goals to grow his business.
Understand what Gino means when he talks about repurposing $4 million dollars.
Discover the importance of buying right.
Gino tells us how the infinite banking concept is a great strategy to lock in.
Find out which two books are Gino's favorite Before the Millions books.
The sacrifices Gina had to make to get to where he is today.
Why listening to motivational speakers inspired Gino in business.
The advice Gino has for millennials wanting to get into business.
How limiting beliefs stop people from reaching their true potential and success.
Tweetables:
Links Mentioned in Today's Episode: 
Gino Barbaro — http://www.ginobarbaro.com/
Jake and Gino Podcast — http://jakeandgino.com/
Multifamily Mastery Program by Wheelbarrow Profits
Gino's Book, Wheelbarrow Profits — https://www.amazon.com/Wheelbarrow-Profits-Passive-Multifamily-Investing/dp/1518840337/
Gino's book, Family, Food and the Friars — https://www.amazon.com/Family-Food-Friars-Experience-Cultivating-ebook/dp/B00QTBDEXE/
IPEC — https://ipeccoaching.com/
M.C. Laubscher — beforethemillions.com/episode12
Think and Grow Rich by Napoleon Hill — https://www.amazon.com/Think-Grow-Rich-Napoleon-Hill/dp/1912032996/
Secrets of The Millionaire Mind by T. Harv Eker — https://www.amazon.com/Secrets-Millionaire-Mind-Mastering-Wealth/dp/0060763280/
The E-Myth by Michael E. Gerber — https://www.amazon.com/E-Myth-Revisited-Small-Businesses-About/dp/0887307280/