Posts Tagged 'Real Estate Agent'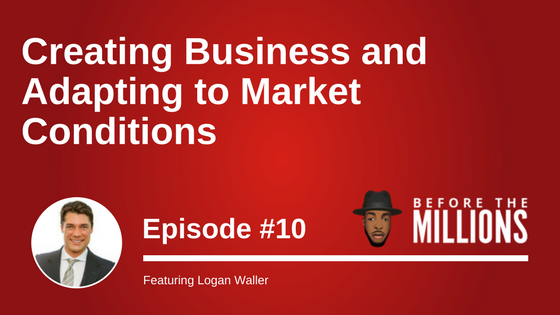 Podcast: Play in new window | Download
On today's show we are joined with Logan Waller. Logan is a broker out of the Dallas-Fort Worth area, founder and president of the Waller Group. The Waller Group is a real estate brokerage group and was consistently ranked within the top 20 teams in the nation by Wall Street Journal, under RE/MAX. In 2011, the Waller Group became an independent brokerage and has been providing full service brokerage throughout the metroplex since 2012.
Last episode we looked at the real estate market from the perspective of an agent, and this episode we will be diving into the perspective of a broker. Logan obtained his real estate license in 1997 with a goal to invest in real estate and follow in his family's footsteps. With that goal in mind, Logan bought his first house at the age of 18 and never looked back. Today, Logan shares more about getting started in the real estate market, how to develop a sales velocity, and the challenges of starting your own business, and pursuing your dreams.
Key Points From This Episode:
Getting a first exposure to entrepreneurship through a vending machine business.
How Logan got hooked onto real estate, buying his first house for only $6,000.
Logan's method and strategy for scouting and purchasing his first house.
Developing a sales velocity to identify the best real estate deals.
The benefits of being a broker within the real estate market.
Top real estate training for the fundamental real estate basics.
Accelerating your career by surrounding yourself with people you can learn from.
The inception of the Waller Group and the challenges of starting a company.
Understanding distressed real estate markets to find the best investment opportunities.
Why most agents are not cut out to be investors.
Daily habits that contributed to Logan's success.
The importance of focusing on identifying sellers and getting them listed.
How your goals and milestones should evolve with different stages of your life.
Standing out above the crowd, and getting sellers to choose your brokerage.
Deciding which real estate deals to invest in and which to take to your buyers.
The importance of creating value within your business, above all.
And much more!
Tweetables: 
"If you can't sell, then you can't make any money." — Logan Waller @Waller_Group  [0:13:45.0]
"I was a typical realtor; I made $200,000 a year and spent $210,00 a year." — Logan Waller @Waller_Group  [0:16:47.0]
"80% of your resources, time, and money should be spent finding sellers." — Logan Waller @Waller_Group  [0:27:40.0]
"Focus on creating value and the profit will follow." — Logan Waller @Waller_Group  [0:43:55.0]
Links Mentioned in Today's Episode:
Audible Free Trial — audibletrial.com/beforethemillions
Waller Group — http://wallergrouphomes.com/
Mike Ferry Real Estate Training — http://www.mikeferry.com/
CCIM Courses — http://www.ccim.com/education/
The E-Myth by Michael Gerber — https://www.amazon.com/E-Myth-Revisited-Small-Businesses-About/dp/0887307280
Good to Great by Jim Collins — https://www.amazon.com/Good-Great-Some-Companies-Others/dp/0066620996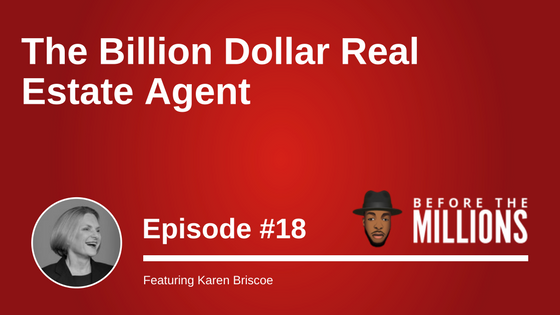 Podcast: Play in new window | Download
On Today's show we welcome the billion dollar real estate agent, Karen Briscoe. Karen is Principal of the Huckaby Briscoe Conroy Group (HBC) and author of "Real Estate Success in 5 Minutes a Day". The HBC Group has been named to the Wall Street Journal Top Realtor® Team List. Over the years, the group has sold over 1,500 homes valued at over $1.5 billion.
In this episode Karen walks us through her path and how she's sold over a billion dollars of real estate and  how she came from an entrepreneurial family and is a very driven person. She also shares with us on her book, that happens to be one of the top selling real estate books on Amazon and we talk about the real truths of being an agent in the real estate industry.
Key Points From This Episode:
Karen shares with us her journey to getting into real estate.
How your internal drive leads to success.
Positioning yourself as a lead generator and the benefits thereof.
Lead tactics and how to make them work for you.
Staying relevant in your industry.
The importance of constantly reinventing yourself.
Knowing the inventory to truly understand where the trends are going in the market.
Karen's advice to entering the real estate business.
Why the market crash in September of 08 was Karen's worst entrepreneurial moment.
Karen's reasons for writing her book, Real Estate Success in 5 Minutes a Day.
How Karen combined inspiration and information to create her book.
Hear why Karen's book is not only for real estate agents but for people in any business.
Key fundamentals mentioned in Real Estate Success in 5 Minutes a Day.
Karen shares on some success stories.
Discover the benefits of reading Karen's book.
Why The Miracle Morning by Hal Elrod is Karen's favorite book.
Find out what Karen's miracle morning consists of.
Limiting beliefs and why they have been Karen's biggest sacrifice.
Karen's husband has her biggest support system
And much more!
Tweetables:
Links Mentioned in Today's Episode:
Karen Briscoe — https://www.5minutesuccess.com/
HBC —  https://www.hbcgroupkw.com/
Karen's book, Real Estate Success in 5 Minutes a Day — https://www.amazon.com/Real-Estate-Success-Minutes-Day/dp/193696127X/
Hal Elrod's book, The Miracle Morning — http://halelrod.com/6-minute-miracle-morning/
Elizabeth Gilbert's books — https://www.amazon.com/Elizabeth-Gilbert/e/B000APV4U0/ref=sr_ntt_srch_lnk_1?qid=1503945961&sr=8-1
Michael Gerber's book, The E-Myth Revisited — https://www.amazon.com/E-Myth-Revisited-Small-Businesses-About/dp/0887307280/
Five Minute Journal App — http://app.fiveminutejournal.com/