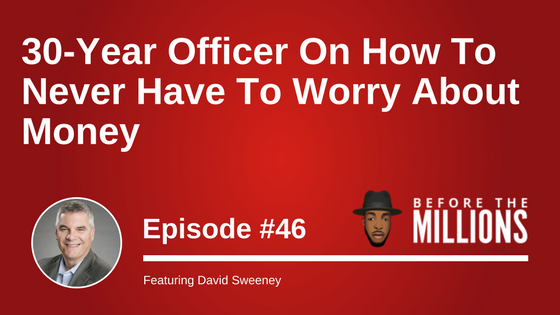 Podcast: Play in new window | Download
David Sweeney, today's guest, is currently a lieutenant with the Seattle Police Department. He's been with SPD for over 30 years! At the early age of 53, he made a life decision to start investing in cash flow real estate.
Today, David is an active real estate investor and a licensed Windermere real estate agent in Washington State. He enjoys helping people achieve their real estate goals. On this episode he provides a wide array of knowledge whether you are an investor, a flipper, or a homeowner, he provides actionable knowledge and inspiration for all walks of life. If you think it's too late to start investing, you're wrong!
If you want to learn how you can never have to worry about money again, this episode is for you!
P.S We're Hiring! —–>>>> click here for job openings
P.P.S Live Q&A this Thursday @ 1pm CST! —–>>>> click here to join
Links mentioned in the show:
Crushing It in Apartments and Commercial Real Estate: How a Small Investor Can Make It Big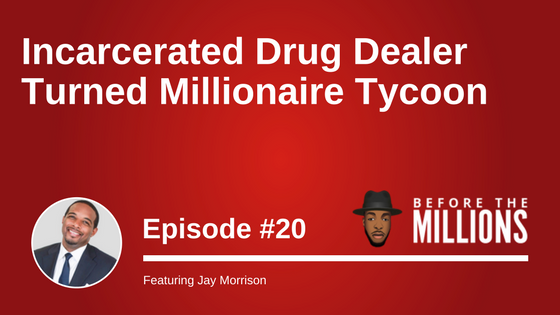 Podcast: Play in new window | Download
Today we had the pleasure of speaking with Jay Morrison,, also known as "Mr. Real Estate". Jay is a successful real estate investor, realtor, TV personality, entrepreneur, social activist and the CEO and founder of the Jay Morrison Brand and the Jay Morrison Academy, an online real estate school and mentorship program.
A high school dropout, at risk youth and three time felon, Jay made a major life transformation for the better over a decade ago and now uses his life experiences and personal story of triumph to empower and impact the lives of thousands of his Academy students, troubled youth, ex-offenders and real estate professionals.
In this episode, Jay talks about how he got started in real estate and before being in real estate and being an entrepreneur he was in the drug game and how he was in and out of jail. He talks about the similarities between the real estate game and the drug game and some of the hardships he went through and lessons that he learnt just by being in that environment.
Key Points From This Episode:
Hear how Jay's journey began growing up poor and surrounded by drugs.
Listen as Jay explains his experiences in prison and what his mindset was like after.
Find out how Jay was introduced to real estate and the principles of financing.
Understand Jay's long term play as a drug dealer.
Discover how Jay managed to build a life for himself after prison and drugs.
Jay draws parallels to drug dealing and real estate.
What Jay loves about entrepreneurship and business.
Learn more about Jay's first real estate transaction with his mom.
Jay's goals as an early entrepreneur in real estate.
Being intentional about giving back and using his story to help others.
A day in the life of Jay Morrison and his keys to success.
Jay's favorite before the millions book, Og Mandino's University of Success.
Sacrificing time and being committed to your goals to be successful in your endeavour.
Making the investment in yourself to get groomed into business.
Advice for people wanting to get into real estate.
And much more!
Tweetables:
Links Mentioned in Today's Episode:
House Hack Secrets Mini Course
— Jay's book, Lord of My Land: 5 Steps To Homeownership
— Jay's book, Lord of My Land: 5 Steps To Homeownership 
— Angela Yee, The Breakfast Club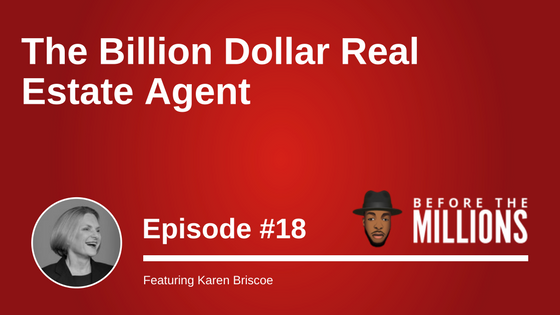 Podcast: Play in new window | Download
On Today's show we welcome the billion dollar real estate agent, Karen Briscoe. Karen is Principal of the Huckaby Briscoe Conroy Group (HBC) and author of "Real Estate Success in 5 Minutes a Day". The HBC Group has been named to the Wall Street Journal Top Realtor® Team List. Over the years, the group has sold over 1,500 homes valued at over $1.5 billion.
In this episode Karen walks us through her path and how she's sold over a billion dollars of real estate and  how she came from an entrepreneurial family and is a very driven person. She also shares with us on her book, that happens to be one of the top selling real estate books on Amazon and we talk about the real truths of being an agent in the real estate industry.
Key Points From This Episode:
Karen shares with us her journey to getting into real estate.
How your internal drive leads to success.
Positioning yourself as a lead generator and the benefits thereof.
Lead tactics and how to make them work for you.
Staying relevant in your industry.
The importance of constantly reinventing yourself.
Knowing the inventory to truly understand where the trends are going in the market.
Karen's advice to entering the real estate business.
Why the market crash in September of 08 was Karen's worst entrepreneurial moment.
Karen's reasons for writing her book, Real Estate Success in 5 Minutes a Day.
How Karen combined inspiration and information to create her book.
Hear why Karen's book is not only for real estate agents but for people in any business.
Key fundamentals mentioned in Real Estate Success in 5 Minutes a Day.
Karen shares on some success stories.
Discover the benefits of reading Karen's book.
Why The Miracle Morning by Hal Elrod is Karen's favorite book.
Find out what Karen's miracle morning consists of.
Limiting beliefs and why they have been Karen's biggest sacrifice.
Karen's husband has her biggest support system
And much more!
Tweetables:
Links Mentioned in Today's Episode:
—  HBC
—  Karen's book, Real Estate Success in 5 Minutes a Day
— Hal Elrod's book, The Miracle Morning 
— Michael Gerber's book, The E-Myth Revisited