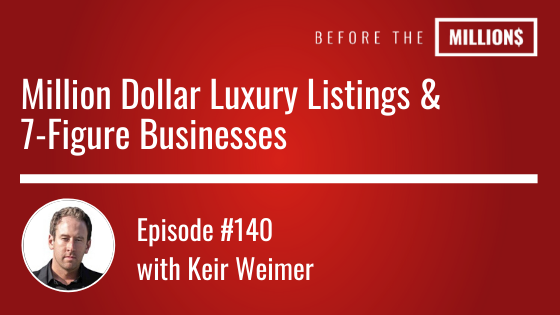 At the age of 23 as a senior in college, today's guest Keir Weimer plead guilty to vehicular manslaughter after a boating accident. Keir served a 5 year sentence in prison that completely changed his life. At first things were hard and his incident followed him everywhere he went but eventually success started finding Keir because he started to use his unfortunate experience to fuel his fire.
Through dedication to his vision, within another 5 years he was able to build multiple 7-figure businesses in the real estate world. Keir started out as a agent and things were difficult his first year – he accumulated thousands in debt and was not able to do a single deal. Off handedly, that same year he was able to develop 30 million dollars in inventory and over 30 listings.
On today's episode, we dive into Keirs reason for jumping straight to luxury real estate with no experience and how important it is to expand your mindset and network.
Key Points From This Episode:
Keirs 1st year as an agent with 0 deals and 40K in debt
How Keir acquired 30 luxury listings valued at 30 million dollars in 12 months with no experience
How Keir partnered with his professor to acquire 250M over 2000 apartments in the US
How to go from $0 in sales to $10 million in sales
A creative way to acquire your 1st waterfront resort
Could the most importantly thing to focus on in your business in 2020 be your personal brand?
Tips on increasing your price point
Links Mentioned in Today's Episode:
Recommended Book:
Think and Grow Rich
Listen to this books for free with Audible!
Lifestyle Design App: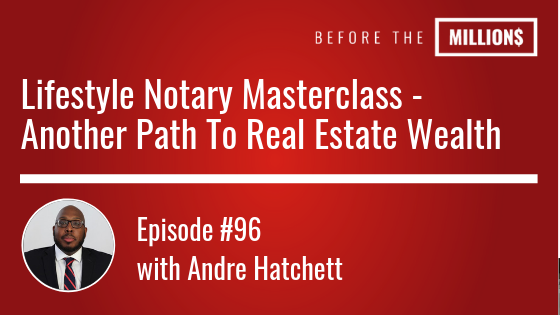 Andre is a nationally acclaimed entrepreneur and philanthropist.
Judy Lichtenberger quit her full time job in record timing.
They both control their time, schedule and paycheck..
What else do both of today's guest have in common?
For one, they can get paid $75-$200 per appointment (sometimes more)
They can take a whole week off or work 7 days straight
They can get paid to build key relationships in Real Estate
On today's episode, we've stumbled upon a niche in real estate that help you make some extra cash on the side. It takes practically no start-up cost (less than $500) and a few weeks max to be up and running.
Key Points From This Episode:
How to become a Notary Public
What a Loan Signing Agent is and how this differs from a Notary
Why Loan Signing Agents get paid $75-$200 per appointment
Out of the box business for less than five hundred dollars
Why Andre started a loan signing service to get you signings
How Andre uses his prior knowledge in business to build his next
Become a Notary/Loan Signing Agent Today —–>
<—— Become a Notary/Loan Signing Agent Today
Links Mentioned in Today's Episode:
Before the Millions Book:
The Wealth Choice by Dennis Kimbro
Listen to this books for free!
Lifestyle Design App: Fiverr
Email Marketing Software: ConvertKit
Before The Millions Workshop: Create and Grow Your Real Estate Portfolio
Before The Millions Mastermind: Expand Your Real Estate Related Business and Life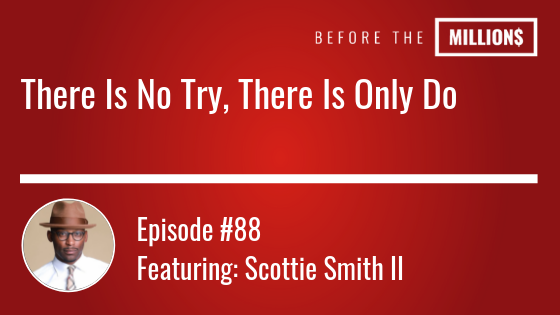 As a Real Estate Broker and avid Entrepreneur, Scottie Smith has a simple goal; To Help People. His lifelong mission has and will always be to help people, using his passion for real estate as the vehicle to do so. On a mission to do just that, he has been recognized nationally by the National Association of Realtors Magazine as one of the Top 30 brokers under 30.
On today's episode Scottie and I discuss the importance of metacognition and how important it is to be aware of one's own thoughts. Scottie provides insights to Real Estate Agents looking to add "Investor" to their title. To end the segment, there's a development deal that Scottie has under contract. This deal comes with a Robin Hood twist. I'll give you a hint, it has to do with: Affordable Housing.
If you haven't already, be sure to join our challenge. The BTM 5K in 30 Day Challenge is for those who want to jump start their investing journey and earn big cash fast. You've been warned.
Key Points From This Episode:
Scotties early childhood and his entrepreneurial start
Why you should learn to be aware of your thoughts
Scotties motto that "There is no try, only do"
Advice for all agents (you're going to want to know this)
How Affordable Housing can be the premise of a thriving business
Links Mentioned in Today's Episode:
Before the Millions Book: