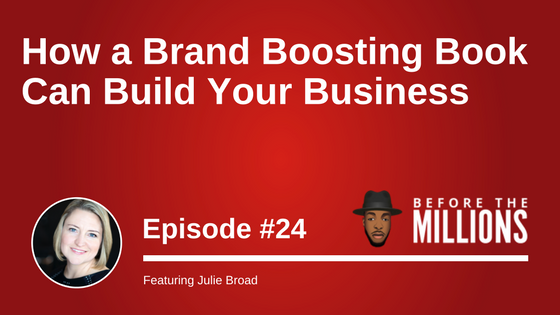 Today on the show, we welcome Julie Broad. Julie is a bestselling Amazon author, the President of Book Launchers and has had a fascinating entrepreneurial journey in the real estate niche.
Julie bought her first duplex at age 23 and self-published her first book in 2013. Julie was told by publishers that her book wouldn't sell, but her book crushed the publishers' predictions by soaring to Number One, overall, in Canada. Four years later and her book is still making big sales!
Although Julie is currently writing her third book, her main focus today is to help self-publishers sell their work, as well as non-writers boost their brands and gain credibility through their books. This is done through her Book Launchers program; where her and her team help entrepreneurs and professionals go from concept to copies in half the time.
In this episode, Julie shares why she believes writing a book is equivalent to getting a degree. She is going to teach us how to establish ourselves as an authority in our field, how to energize our brands, how to publish our book and make sure that it rises to the top of the pack. If you've ever thought about writing a book but you're scared, this is the episode for you!
Key Points From This Episode:
How Julie became an entrepreneur and her "Freedom 35" plan.
The lessons Julie learnt from real estate and why she wrote her first book.
Learn more about the first real estate deal Julie made at age 23.
Why an MBA will equip you to be an employee, not an entrepreneur.
How Julie survived the 2008 crash through her mantra: "Keep pressing play."
Why the best time to dig for deals is when the going gets tough.
Discover what prompted Julie to build a brand and self-publish her book.
The mistake Julie made that cost her US $12,000 when self-publishing.
How to know if you should write a book and the questions you should ask yourself.
Learn more about Julie's company, Book Launchers, and its success stories.
How to self-publish your book: steps, tips, processes and how to launch.
Common mistakes entrepreneurs make when writing their book.
How to make sure that your book isn't boring.
Tweetables:
[spp-tweet tweet=""I didn't have a plan. I didn't know what the heck I was doing… and that's how I wrote my first book." — Julie Broad"]
[spp-tweet tweet=""Entrepreneurial life is hell. It is a rollercoaster of emotions. It is scary. It is really not for everybody." — Julie Broad"]
[spp-tweet tweet=""Whenever it is rough, that is the best time to be out there finding deals." — Julie Broad"]
[spp-tweet tweet=" "Get uncomfortable and the rewards will be there." — Julie Broad"]
Links Mentioned in Today's Episode:
– More Than Cashflow by Julie Broad
Access The Best Strategies, Tips & Advice!
Every week, we send an email sharing my best advice, tips and strategies related to Real Estate Investing. Each of these weekly emails contain relevant and actionable information that can help you no matter where you are in your investing journey.