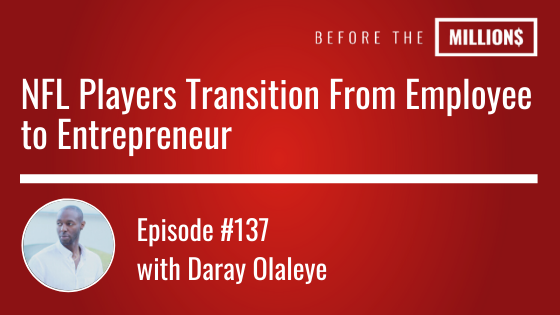 The transition from employee to entrepreneur can be one of the most difficult things to do in your life. It seems as though you are leaving a life of stability to a life of uncertainty.
But in today's day and age, more and more of us are see the writing on the wall. Our safe and secure job is not a safe as we'd like to believe.
In this episode I decided to use the NFL industry to study football players and their transition to normal life (and for the savvy, to an entrepreneurial life). Almost 80% of NFL players go broke with 2 years of leaving the league. Why is this? Could there be some parallels between our transition from a W2 job to Real Estate?
Today we study the do's and don't when setting up your financial future, lifestyle design future and the world after being a lifelong employee.
Download our real estate guide & take your free newbies assessment here!
Kendra Barnes is on a mission to change the perception of what a Real Estate Investor is supposed to look like by encouraging and empowering millennials to invest in Real Estate. By the age of 30 she owned and managed 7 rental units. No, she did not hit the lottery nor was she left a hefty inheritance. She started out in Real Estate Investment with the goal of building wealth but had no idea what she was doing and jumped in anyways. These days, Kendra and her husband are owners of several investment properties in the Maryland and D.C. areas and educate others on all things real estate.
On today's episode, Kendra and I discuss the challenges of living "The American Dream" and although she started her journey with a great life how she's a big advocate for those who start with with nothing. Kendra is a big fan of Robert Kiyosaki but originally got started with no education in the space and just decided to take the leap of faith. Find out more on Kendra's journey by listening to the interview.
Key Points From This Episode:
How to blow past the mental blocks and get started
Why the American Dream is not the dream after all
How Kendra got started in real estate with no formal education
The benefits of house hacking and living for free
Links Mentioned in Today's Episode:
Before the Millions Book:
Rich Dad, Poor Dad by Robert Kiyosaki
Listen to this books for free!
Lifestyle Design App: