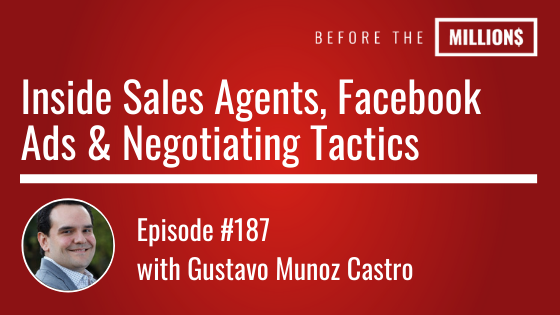 Gustavo Castro, today's guest, runs one of the largest inside sales teams for real estate in North America. They make about 50K outbound calls a day, set 100 appointments a day and have over 600 active real estate clients.
On today's show Gus highlights the power of an ISA (inside sales agent) and how to best utilize one in today's competitive economy. Gus also knows how to fill the front end of his sales funnel with facebook ads and close on the backend with great negotiating tactics – all on today's episode.
Key Points From This Episode:
Why become an entrepreneurial asset in someone else's business
The power of asking yourself… 'What's the worst that could happen?'
The difference between a virtual assistant and inside sales agent
The future of phone marketing
Gustavo's facebook lead generation strategy
Cost per lead vs cost per acquisition
Links Mentioned in Today's Episode:
Recommended Book:
Rich Dad, Poor Dad by Robert Kiyosaki
Lifestyle Design App: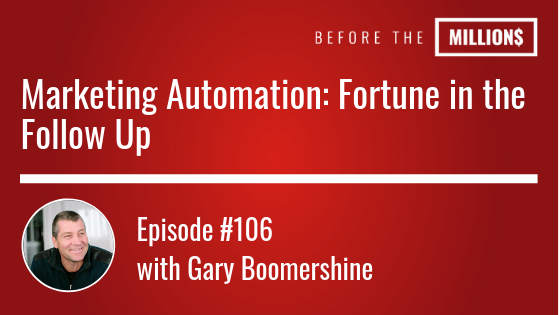 With a family legacy in the real estate niche, and a long successful career in enterprise and emerging technology markets, Gary Boomershine noticed the glaring opportunity to leverage people, processes and technology to gain a leg up in a changing and competitive marketplace. As he worked to develop and use the initial product and service, he saw his real estate business flourish by allowing him to work smarter – not harder and focusing on the one thing that makes money – talking to sellers and making offers.
On today's episode, we talk with Gary about scaling our real estate business, more specifically through our sales and marketing efforts. We talk heavily about lead capture, lead management and lead follow up. The fortune in this industry is in the follow up so this episode is gold for building a great follow up system.
Key Points From This Episode:
Making money vs. being wealthy
How to calculate your hourly rate
What is OPT, OPE and OPR
How a CRM can benefit your Real Estate Business
Links Mentioned in Today's Episode:
Before the Millions Book:
Traction by Gino Wickman
Samurai Selling by Chuck Laughlin
How I Raised Myself From Failure to Success in Selling by Frank Bettger
Listen to this books for free!
Lifestyle Design App: Workflowy
Special gift from Gary and Daray for the BTM listeners – Click here!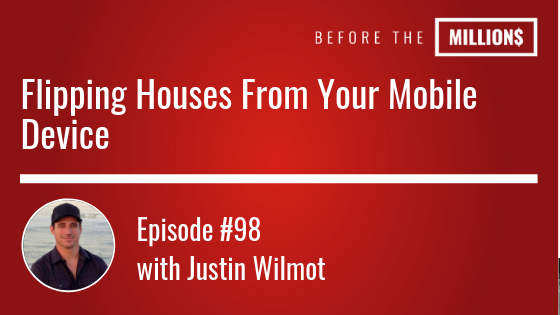 Justin Wilmot, today's guest, loves to surf so he created a business that allows him to surf all day every day. The vehicle he uses is real estate but it's much more than that. Justin has been able to build an ideal lifestyle around the things that make him happy. On today's episode, we walk through Justin's entrepreneurial journey and uncover exactly what it takes to get a deal done without every stepping foot in the state that the property is located.
For those of you looking for freedom through real estate and you're done being frustrated with trial and error, not actually gaining any real traction, I have your solution. I noticed that tons of people would love to jump into real estate investing but most don't quite understand how exactly they should build their business to guarantee success. I am currently hosting a live webinar to to show you the exact step by step process that I used to build my portfolio. The same exact process my clients use to escape the rat race. The same exact process today's guest, Justin, followed to surf all day long anytime he wants. This will be a live webinar with a ton of value so you won't want to be late. Register for the webinar here and I'll show you how you can escape the rat race in 2 years or less. Spots will fill fast —–> Register here.
Key Points From This Episode:
How to get real estate deals done, virtually
What mobile wholesaling his and how you can get started
The most important app you'll ever need as an investor
Justin's not so rags to riches story
Links Mentioned in Today's Episode:
Before the Millions Book:
How To Win Friends And Influence People by Dale Carnegie
Listen to this books for free!
Lifestyle Design App: Docusign