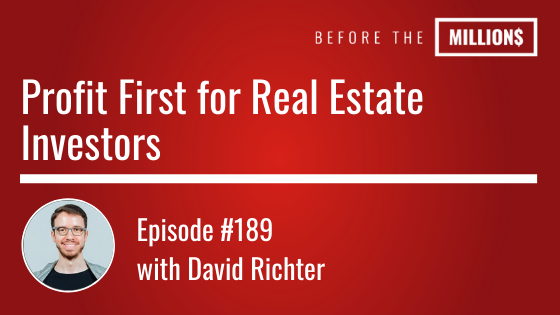 On todays episode, we interview the brand new author of Profit First for Real Estate Investing, David Richter.
David is a long time property investor that has been apart of over 850 deals in his lifetime and through his experiences has learned how best real estate investors can manage their finances as well as their mindset on money. We take abstracts financial concepts and implement tactical strategies on this episode to be great stewards of our own finances on todays show.
Key Points From This Episode:
Infinite banking for real estate investors
Understanding the importance of "passthrough" bank accounts
3 month reserve for potential deals?
David's opportunity to author a new version of Mike Michalowicz's "Profit First" but for real estate investors
Links Mentioned in Today's Episode:
Recommended Books:
Rich Dad, Poor Dad by Robert Kiyosaki
Boundaries by Henry Cloud and John Townsend
Listen to these books for free!
Lifestyle Design App:
Other 'Profit 1st' Episodes:
BTM146: Profit 1st, The 20-Hour Work Week & A 4-Hour Body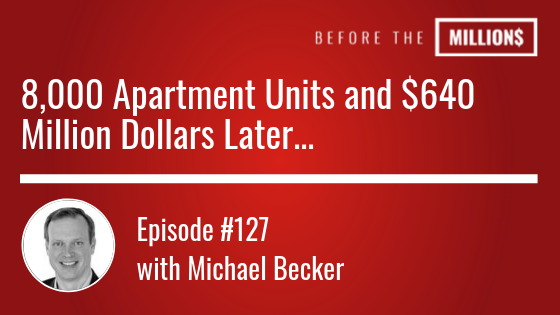 Michael Becker is a banker turned seasoned apartment syndicator with 8000+ units acquired. He currently has $650 Million assets under management. Michael is an expert in commercial financing, including underwriting, due diligence, financial analysis and preparation of marketing materials.
On today's episode, Michael and I discuss the current state of the real estate market and what a new investor needs to know to get started with apartments. It's not always about what you know, in fact it's almost never about what you know. We'll discuss the power of leverage and taking notice of the resources in your circumference.
Key Points From This Episode:
Why Michael made the move from single family to multifamily
Different ways to raise capital for deals
How to create a consistent pipeline of opportunities in any market
How to avoid taxes legally
Michaels advice for getting started in real estate
How to work with brokers on apartment deals
The difference between an active and passive apartment investor
Links Mentioned in Today's Episode:
Recommended Book:
Tax Free Wealth
Listen to this books for free!
Lifestyle Design App: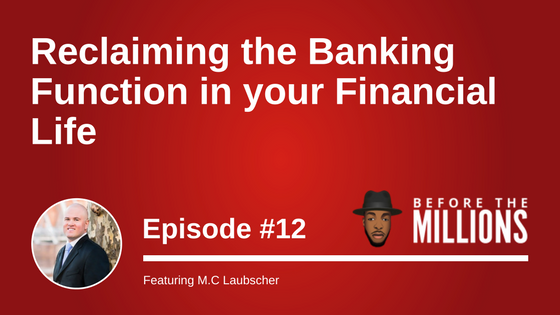 On today's show we welcome M.C. Laubscher. M.C. is a wealth strategist, educator, and financial freedom fighter all the way from South Africa. He is the President and CEO of Valhalla Wealth Financial and the creator and host of the popular business and investing podcast, Cashflow Ninja.
His mission is to help as many people as possible eliminate the that control banks and financial institutions have over their lives by building their wealth in a variety of ways, outside of Wall Street. He does this by reclaiming the banking function in your own financial life through structuring an efficient cash flow management systems and creating and building assets that provide multiple streams of income.
Valhalla Wealth Financial was built on the principles and values of self-ownership, self-reliance, independence, personal and financial freedom, and lifelong learning and financial education. In this episode we speak to M.C. about busting those financial myths and how to reclaim and reuse your money over and over again.
Key Points From This Episode:
M.C. tells us about his background growing up in South Africa and how he started working in real estate before he went into wealth and finance.
The books M.C. read that helped him make that paradigm shift.
How M.C. started looking at what money really is, and made the mindset shift.
The strategies M.C used and how he implemented them to get started.
Listen as M.C. explains the infinite banking concept and how you can incorporate it.
Understand why M.C. started researching the way wealthy people handled their money.
Discover more about the cashflow versus accumulation model.
Why M.C believes that the 401(k) is an unproven system.
How real estate income acts as a hedge against inflation.
Learn how the accumulation model is going to fail people in the future.
Find out how markets only do three things: go up, go down, or go sideways.
Listen as M.C. explains why people following the cashflow model will be living golden days.
Understand what real estate M.C. invested into.
Discover how M.C wants to build a business that is location independent to help people from all over the world.
Why M.C decided to get into the financial services industry.
The biggest challenge M.C faced in starting and owning his own business.
The reason why the most important real estate in the world is that piece of real estate in between your ears.
Find out why M.C. started podcasting and how it helps him cater to his specific audience.
How leadership platforms have contributed to M.C's main business.
The time in which M.C. had to overcome failures in his business, and how it played out.
Discover how once you start putting out good solid content that provides value, you start to see growth and change in your business.
Hear why you have to try to find a way to purchase things more effectively.
M.C.'s favorite before the millions books to read.
Listen as M.C. explains some sacrifices he had to make to get where he is today.
Hear how M.C.'s family has been very supportive and a key to his success.
How M.C. identifies the analysis paralysis that hold people back from being successful.
Tweetables:
[spp-tweet tweet=""You can start small and that can make huge differences in your own life." — @mclaubscher"]
[spp-tweet tweet=""Insurance products is a very good way of passing down and creating a legacy for your family." — @mclaubscher"]
[spp-tweet tweet=""If you know what money truly is, money has to keep moving and circulating." — @mclaubscher "]
[spp-tweet tweet=""Inflation is a huge wealth destroyer, just like taxes." — @mclaubscher "]
[spp-tweet tweet=""The most important real estate in the world is that piece of real estate in between your ears." — @mclaubscher "]
Links Mentioned in Today's Episode:
— Robert Kiyosaki's book, Rich Dad, Poor Dad
— Edward Griffin's book, The Creature From Jekyll Island
— Nelson Nash's book, Becoming Your Own Banker
— Grant Cardone's Book, The 10X Rule
Access The Best Strategies, Tips & Advice!
Every week, we send an email sharing my best advice, tips and strategies related to Real Estate Investing. Each of these weekly emails contain relevant and actionable information that can help you no matter where you are in your investing journey.