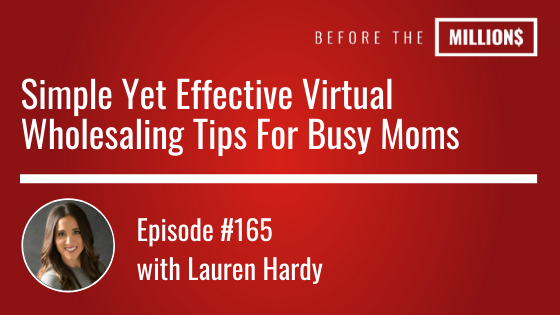 If you're too busy to get started in Real Estate, we have a plan for you.
Lauren Hardy, today's guest and mother of 2, does 50+ deals a year… and virtually. On today's show, we discuss the inner workings of her business and how she was able to get started in real estate with a 1 year old and another on the way. Having done hundreds of deals, Lauren shares her knack for choosing a market and hiring boots on the ground to do the hard work for her.
So if you're a busy professional, mom or dad and you struggle to find the time or the right guidance getting started wholesaling, then you're in for an amazing episode.
Key Points From This Episode:
How Lauren Manages to do 50+ deals a year
Lauren's big why and the divorce that changed everything
How to assess your risk tolerance and your investor type
Finding and vetting boots on the ground for virtual deals
The only 4 metrics that matter when wholesaling homes
Links Mentioned in Today's Episode:
Recommended Book:
Compound Effect by Darren Hardy
Listen to this books for free with Audible!
Lifestyle Design App: