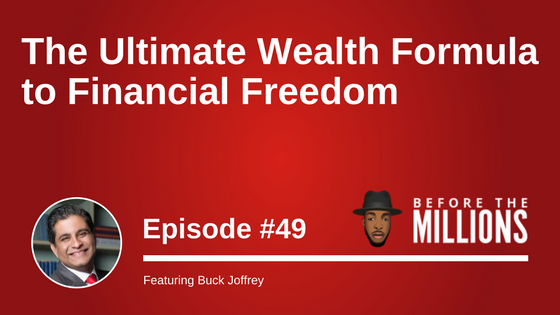 On today's show we welcome Buck Joffrey. Buck is an accomplished Surgeon, Entrepreneur, Asset Manager and Podcaster. He is also the #1 best-selling author of The 7 Secrets of Eternal Wealth. With a negative net worth upon finishing his surgical training in 2008, Buck quickly became a serial entrepreneur and real asset investor amassing an 8 figure net worth. In order to help his high paid professional colleagues, he started a financial education website called WealthFormula.com and hosts the popular Wealth Formula Podcast.
Buck knows the old mantra of "investing in a diversified portfolio of stocks, bonds, and mutual funds," is outdated and dangerous for high paid professionals given the volatility and instability of the current global economy. Therefore, he advocates entrepreneurship and/or investing in hard assets that provide cash flow as a more reliable way of approaching personal finance. Through a strong foundation of financial education and emphasis on cash flow investing, Buck teaches professionals how to take charge of their money and prosper.
Key Points From This Episode
Buck's story from surgeon to real estate investor/entrepreneur
What is the "Wealth Formula" and how you can use this to achieve financial freedom
Why most successful people never "retire"
Importance of shifting your mindset to life life on your own terms
What made Buck change his focus on making money from a different quadrant
Why your focus should be on buying streams of income
How Buck lost 300K on his first real estate investment and the #1 thing he would do differently
Links Mentioned in Today's Episode
Access The Best Strategies, Tips & Advice!
Every week, we send an email sharing my best advice, tips and strategies related to Real Estate Investing. Each of these weekly emails contain relevant and actionable information that can help you no matter where you are in your investing journey.