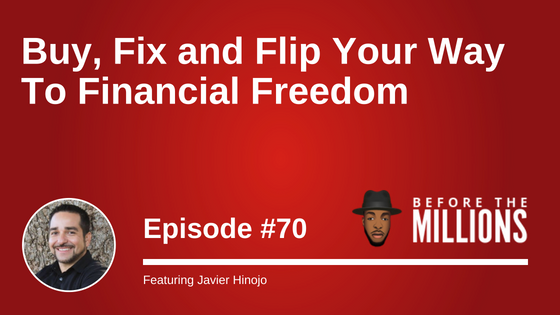 Javier Hinojo is the owner of IQ REI, a family-controlled real estate company that buys, manages, repairs, and sells homes in the Raleigh, Durham, and Chapel Hill, NC area. He has extensive experience working with foreclosed properties, land development, lease options, and land contracts. Javier offers the kind of business that prides itself on having a quick response rate, professional experience, and simplified solutions that make clients' lives easier. Javier has been married for 19 years and have 5 children with 3 still living at home. He has always been an entrepreneur (owning a few businesses, been bankrupt twice, day trader Forex, and more). Javier started investing two years ago and completed over 28 fix and flips and is on track do to over 50 by next summer. He is looking forward to investing into rentals, multi-family, and development deals in the near future.
Today, Javier talks to us about his journey from joining the military to becoming an real estate entrepreneur. Growing up, Javier always had an entrepreneurial spirit as a child seeing his parents run a locksmith business. He shares his story of attending a weekend seminar with a friend which opened his eyes to the possibilities in real estate. He realized that the buy, fix and flip business model was the best way to get started (the market was great, quick cash, also knew that fix and flip is still a job and doesn't provide not residual income). He believes that the longer you go without doing your first deal, the closer you get to never doing one. You'll hear about the lessons learned and experience using a hard money lender to finance Javier's first deal. He also shares why investing in a coach is never a waste of money when getting started. Lastly, we wrap up the episode with a funny story about the "Wear Pants No Hands" video when Javier was looking to expand his team and why it's importance to work with people who can think outside the box.
Key Points From This Episode:
How Javier incorporated his family into his fix and flip real estate business
The story of how Javier got interested in real estate by attending a weekend seminar
The concept of fixing and flipping and how the process works in real estate
Breakdown of what a wholesaler is, the benefits and how you can get started doing this today
The story of how Javier got into his first deal with little to no money and made $17K profit
Why you must have the right mindset when deciding to become a real estate investor
Hard Money Lender Financing: how to analyze and the process of getting a lender for your deals
What deed-to-deed is when doing fix and flip deals in real estate
Story of how Javier learned about the importance of cash flow and the story of his lowest point of his life (house payment was due, no money in the bank, and asking his kids for their Christmas money to help pay the bills) and what he did next to change his life for the better
Why investing in mentorship and coaching is never a waste of money
How taxes work in fix and flip deals and why you have to be creative with your money as an entrepreneur
Javier shares his story of showing the "Wear Pants No Hands" video to find the right team members
Links Mentioned in Today's Episode
Javier's Website: http://www.iqrei.com/
Download any 2 audio books for free when you try audible for 30 days.: https://beforethemillions.com/book
Javier's Favorite Lifestyle Design App: Trello: Keeps track of everything, from the big picture to the minute details. https://trello.com/
Access The Best Strategies, Tips & Advice !
Every week, we send an email sharing my best advice, tips and strategies related to Real Estate Investing. Each of these weekly emails contain relevant and actionable information that can help you no matter where you are in your investing journey.