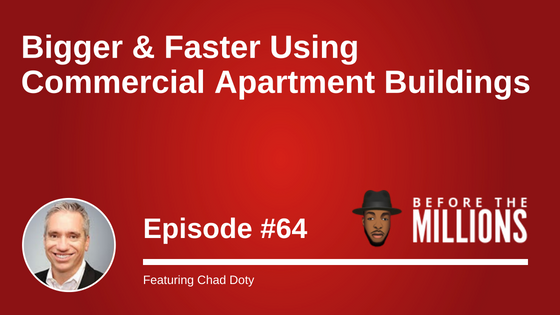 Chad Doty has 12 years of experience as a multifamily investor, but he wasn't born with real estate in his blood. Originally, Chad was a management consultant for Arthur Andersen. Watching that company meltdown prior to him making partner made him realize that letting outside circumstances control his life wasn't for him.
So Chad then founded his own consulting company, only to realize he was simply trading time for money. Determined to control his own destiny, Chad decided to leverage commercial multifamily real estate to develop recurring, passive income. He formed 37th Parallel Properties, a private real estate acquisitions and asset management rm.
As the CEO of 37th Parallel Properties, Chad specializes in syndicating multifamily investments. His offerings allow investors access and opportunities to generate stable streams of tax-advantaged passive income and equity growth without needing to manage the property themselves.
Through this approach, Chad helps investors get access to tax-advantaged apartment investments that can produce income and equity growth that have historically retained their value through economic downturns and nationally cycles. Chad is a proven multifamily veteran with over 12 years of investing experience, another 10 years of management consulting experience, and $325 million dollars in real estate transactions.
On today's episode, we talk with Chad about his story of growing up with his family and how working with his father taught him the importance of work ethic at an early age. Chad's father gave him the book Think & Grow Rich at the age of 18 and Chad started to listening to inspiring and motivational speakers including Les Brown. Chad knew he wasn't an entrepreneur but he did have a desire to learn and improve his life for himself and his family.
Chad talks about how he had a burning desire for more freedom and control after working in corporate after college. You'll learn what inspired Chad to get into real estate and the purpose behind choosing multifamily as a the primary asset class for his investing.
We also talk about advice for any professionals who are currently investing in their 401K and what might be a good mix for investing to achieve financial freedom for you and your family. Chad shares with us the number # 1 reason his primary focus is multifamily (earning twice the money with half the time).
We breakdown the the biggest difference between investing in residential vs. commercial real estate properties and how Chad's biggest failure set up him up for success. Lastly, we wrap up the episode discussing the benefits of investing in multifamily apartment buildings and how to handle downturns in the real estate investment market.
Key Points From This Episode:
The story about Chad's wife telling him she was pregnant with their son switched his mindset to focus on gaining more time, freedom, money, control and be there for his son
Chad shares he didn't grow up in real estate but rather picked it as a business analyst. He found that it had the best features that he wanted to build a wealth and get scale from people and time. After doing further research on real estate investing, he decided that multifamily was best real estate asset class.
Amazing advice for any professionals who are currently investing in their 401K and how they should go about investing
How you can decide what is a good mix when starting out in investing or should you focus on what investments are given to you as a default
Chad shares how his failures as an entrepreneur later set him up for success
The differences between residential vs. commercial real estate investing (trends, markets, etc.)
The # 2 life-changing things Chad implemented to improved his business (the theory of constraint and shifting your business to scale from how and what vs. why and who
Breakdown of types of residential properties (under 4 units) vs. commercial real estate (5 units +)
The main benefits of going big (purchasing multi family vs. single family/triplex/duplex)
At one point Chad had 100 cash flowing homes there was a market ()
The #1 myth in real estate about finding and financing a good deal (tip: money flows to people who know what they're doing)
The lending environment with smaller real estate deals vs. multi family/commercial
Daray and Chad share their best advice on how to handle a downturns when investing
What classes of real estate Chad looks for and why (class A, B, C, etc.)
Links Mentioned in Today's Episode
Chad's Website: https://37parallel.com/
Recommended Books/Websites:
Chad's Favorite Books:
Access The Best Strategies, Tips & Advice !
Every week, we send an email sharing my best advice, tips and strategies related to Real Estate Investing. Each of these weekly emails contain relevant and actionable information that can help you no matter where you are in your investing journey.