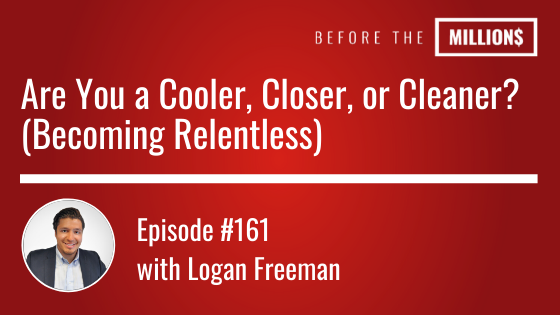 He completing over 120 transactions in less than a year. Logan Freeman, today's guest, found a process and relies on his most valuable priorities to guide his profit-producing activities. As quoted by Logan himself, "Knowledge alone is not power, it is potential power. Knowledge + massive strategic action = power".
On today's episode we discuss the difference between those who have the knowledge but take no action and those who have the knowledge and take massive action and those who have the knowledge, are relentless and are absolute in victory. Tim Grover, Michael Jordan's trainer, call these people "cleaners". Logan and Daray will show you exactly how to foster the cleaner mentality within you.
Key Points From This Episode:
How Logan completed over 120 transactions in one year
Life after the NFL player with the Oakland Raiders
Distinguishing between Coolers, Closers and Cleaners
The benefits of extreme ownership
How strengthsfinder can help you discover your top 5 talents
How Logan completed 9 syndications raising over $15 Million dollars
How to take rejection from a cold lead
If Logan had to start over with no money or connections, what he would do to get back to a certain level of success
Links Mentioned in Today's Episode:
Recommended Book:
Awaken the Giant With by Tony Robbins
Listen to this books for free with Audible!
Lifestyle Design App: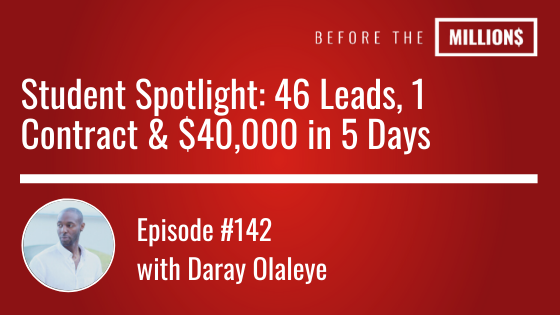 Today's episode features one of my very own coaching clients who just got started building his real estate empire.
We go behind the scene of one of our private one-on-one coaching calls to show you the strategic planning that goes behind the 40K checks on the deals that we do.
You will also get to witness a live seller call smack dab in the middle of my coaching session with Josh. This live seller call will be invaluable to your understanding of an initial call with a homeowner and negotiating tactics.
Josh, today's student spotlight, and all of the Before the Millions coaching clients are building up their real estate empire using the Motivated Seller Method, the most comprehensive program for profiting from real estate deals with motivated sellers and the only implementation course of its kind.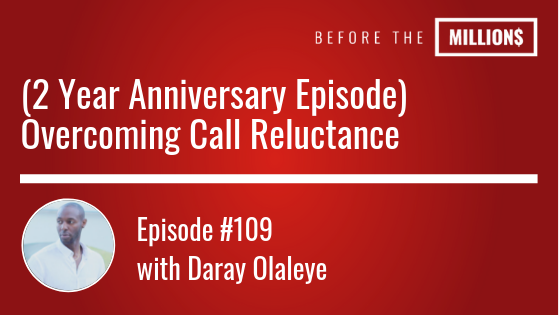 On today's episode I am interviewed by Zachary Beach to discuss Call Reluctancy
This is a huge topic that's critically important for your real estate business!
If you're not finding deals with sellers on the phone, you should be.
If you don't know how to deal with the FEAR that surrounds it, it can paralyze you and your business.
I used to hate making those CALLS and would do anything to avoid them. But when I started using the phone my business jumped by 1000% almost instantly.
Without sales you've got no business. Using the phone is the fastest way for you to get new leads.
On this episode, you're going to learn a simple shortcut that not only gets you to make every call, but guarantees a win each time you do.
What we're going to cover:
· WHY you're afraid to pick up the phone
· WHEN it's red flag
· HOW to overcome it
Links Mentioned in Today's Episode: