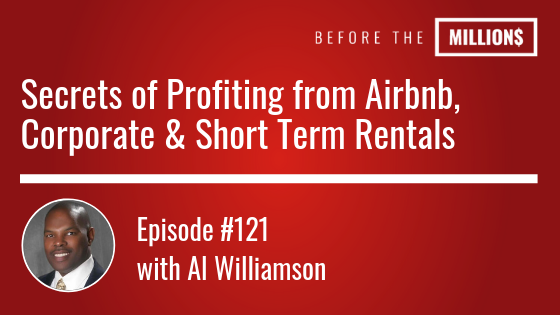 Al Williamson aka The Landlord Scientist joins us on today's show to discuss strategic problem solving, landlording for maximum profits and the most lucrative short term rental business (with little start up costs).
The pivotal moment in Al's journey is when he purchase an 8 unit apartment and created enough side income to dramatically increase his cashflow to retire from Corporate America. Since, Al has been focused on his best strategy to date in Short Term Rentals and Corporate Housing.
On this episode, we'll cover it all. We'll even dive into a bit of mindset work for better strategic thinking.
Key Points From This Episode:
Creative problem solving and Real Estate
Creative ways to increase your property's income
The inception of AirBnB
Short term rentals vs. AirBnB
How to get started with Short Term Rentals
The importance of a "clueless" mentor
The benefits of rental arbitrage
A secret way around obtrusive Laws & Regulations
Creative ways to utilize a Virtual Assistants and Cleaning Crews
How to pay yourself in your business
How to pay yourself as an S-Corp
Links Mentioned in Today's Episode:
Recommended Book:
6 Thinking Hats by Edward de Bono
Lateral Thinking
Water Lodging
No Money Down by Charles Allen
Listen to this books for free!
Lifestyle Design App: