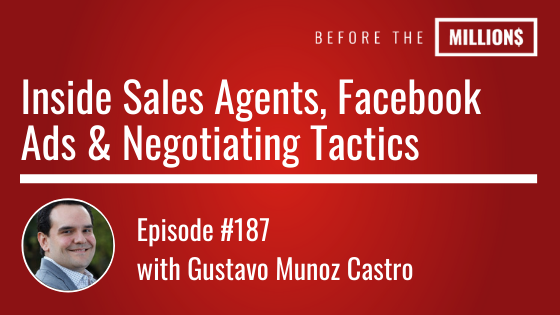 Gustavo Castro, today's guest, runs one of the largest inside sales teams for real estate in North America. They make about 50K outbound calls a day, set 100 appointments a day and have over 600 active real estate clients.
On today's show Gus highlights the power of an ISA (inside sales agent) and how to best utilize one in today's competitive economy. Gus also knows how to fill the front end of his sales funnel with facebook ads and close on the backend with great negotiating tactics – all on today's episode.
Key Points From This Episode:
Why become an entrepreneurial asset in someone else's business
The power of asking yourself… 'What's the worst that could happen?'
The difference between a virtual assistant and inside sales agent
The future of phone marketing
Gustavo's facebook lead generation strategy
Cost per lead vs cost per acquisition
Links Mentioned in Today's Episode:
Recommended Book:
Rich Dad, Poor Dad by Robert Kiyosaki
Lifestyle Design App: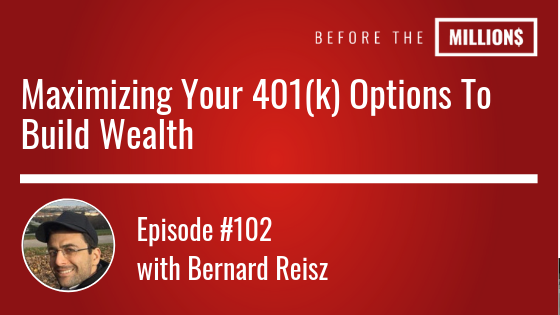 The 401K world has always had a big question mark around it. On this bonus episode, Bernard and I discuss the pitfalls of a traditional 401K and how you can take control of your retirement funds to maximize your wealth.
Key Points From This Episode:
401k vs IRA, which should you have?
How to maximize your retirement match
I'm about to graduate college, how should I invest?
What 2 things should look for in a service provider
Links Mentioned in Today's Episode:
Before the Millions Books:
What They Do With Your Money
Lifestyle Design App: vCita
Free Training: Building A Lifestyle Business Through Real Estate Investing