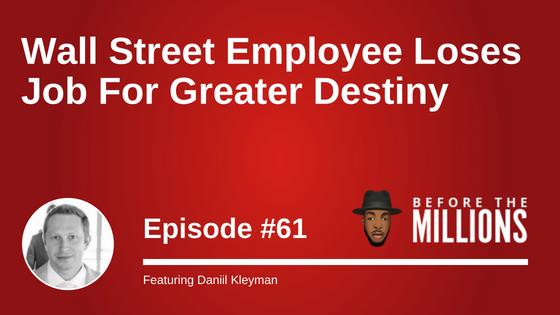 Daniil Kleyman grew up in the cold, snowy city of Moscow, Russia. At age 12, he immigrated with his family to Richmond, VA. After a brief and not-so-successful run on Wall Street, Daniil finally realized that he was utterly unemployable and ventured into real estate investing and software development.
He hasn't looked back since. Daniil's real estate investing business currently includes a portfolio of rental properties, ground up residential construction, multi-family development and mixed-use commercial development. He is also incredibly passionate and hands on with the software development, constantly working with the development team on new releases.
Daniil has been involved in hundreds of transactions and different strategies including Wholesaling, Rehabbing, New Build Construction, Apartment Investing, & Commercial properties. But his favorite investing strategy today is still cash-flowing properties whether it's single family homes or commercial.
He talks about why cash flow is so important, and how to get financing so that you can become financially free. Daniil also produced a software for Wholesalers and Rehabbers in the industry called Rehab Valuator which will show you the true value of a property, and allow you to blast out the key information to your buyers list.
On today's episode we talk with Daniil about his journey and how he didn't want to have a job anymore. He didn't want to be responsible to anyone else and have a set schedule. Daniil didn't want to be trapped in an office or a cubicle. He didn't want to ride the subway at 7 o'clock in the morning wearing a suit. You'll learn why Daniil knew he looked good on paper but wasn't fulfilled.
We talk about simplifying your life to have a clearer mindset and why staying organized and contracting out certain phases of your business are important. He talks about the story of getting his start; investing in rentals coming out of 2008 and 2009 real estate crash. Finally, we wrap up the episode with Daniil sharing his strategy behind new construction and buying land and how you can make smart real estate decisions right now.
Key Points From This Episode:
Daniil's driving force behind investing heavily in one market vs. diversifying a bunch of different areas.
How he ended up in Richmond, VA after working in Wall Street as a young man in New York City
Being in a approval seeking environment (aka a job) left him discouraged and unfulfilled
How you can make every right decision to having a good income (work hard, well liked, etc.) and still end up having everything taken away from you
The importance of finding ways to diverse your income so if your job doesn't work out you're not helpless
Importance of diverse your skill set (challenge yourself to learn new ways to create the life you want) such as marketing and sales skills you can take with you anywhere
How he humbled himself to move back with his parents after leaving Wall Street making over $200K/yr
The story of how he found a $40K shell of a house and brought with his partners (spent 6 month rebuilding that house)
The breakdown of how a development works and an example of a duplex that he has brought (numbers on it, how long it takes and typical returns you'll see in your market, etc.)
What Daniil is doing today in real estate and the breakdown from the time he finds the land to buy to the time a tenant moves into the rental property
Links Mentioned in Today's Episode
Daniil's Website: Rehab Valuator
Daniil's Favorite Books:
Daniil's Favorite Lifestyle Design App: Uber
Access The Best Strategies, Tips & Advice!
Every week, we send an email sharing my best advice, tips and strategies related to Real Estate Investing. Each of these weekly emails contain relevant and actionable information that can help you no matter where you are in your investing journey.