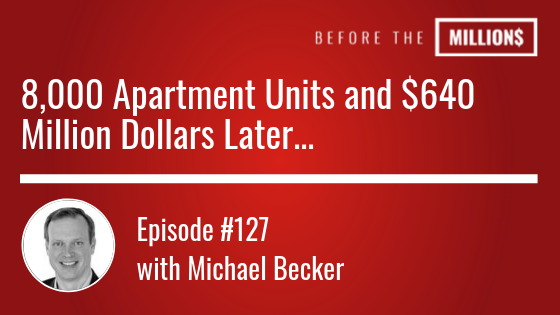 Michael Becker is a banker turned seasoned apartment syndicator with 8000+ units acquired. He currently has $650 Million assets under management. Michael is an expert in commercial financing, including underwriting, due diligence, financial analysis and preparation of marketing materials.
On today's episode, Michael and I discuss the current state of the real estate market and what a new investor needs to know to get started with apartments. It's not always about what you know, in fact it's almost never about what you know. We'll discuss the power of leverage and taking notice of the resources in your circumference.
Key Points From This Episode:
Why Michael made the move from single family to multifamily
Different ways to raise capital for deals
How to create a consistent pipeline of opportunities in any market
How to avoid taxes legally
Michaels advice for getting started in real estate
How to work with brokers on apartment deals
The difference between an active and passive apartment investor
Links Mentioned in Today's Episode:
Recommended Book:
Tax Free Wealth
Listen to this books for free!
Lifestyle Design App: