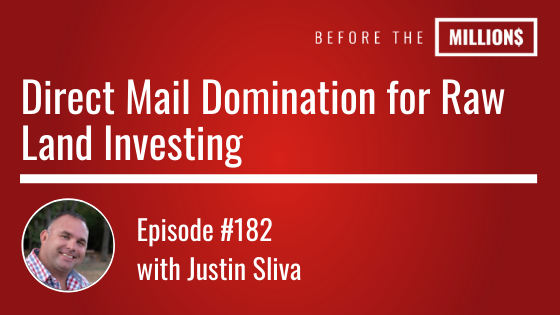 Direct mail, if done correctly, can be one of the most effective forms of marketing today – it can also be one of the most cost prohibitive without the proper guidance. Today's guest is a leading authority in the space and will show us exactly how he uses direct mail to buy raw land all across the country.
Raw land investing expert Justin Silva knows exactly where new investors struggle. As a long time land investor, he's been able to harness the enormous potential offered by land investments: incredible ROI, massive cash profits and sustainable passive income. On today's episode we'll learn how to effectively use direct mail to close more land deals for a massive ROI.
Key Points From This Episode:
How Justin got started in real estate and learned to dominate direct mail marketing
Why Justin will provide capital for anyone flipping land – "Plum Investment Group"
Why landsofamerica.com is one of the best tools land investors can use
How to create your own powerful direct mail campaign
What happened when just sent out 55,000 pieces of mail right before COVID-19
Links Mentioned in Today's Episode:
Recommended Book:
Rich Dad, Poor Dad by Robert Kiyosaki
Lifestyle Design App:
Notes (iPhone App)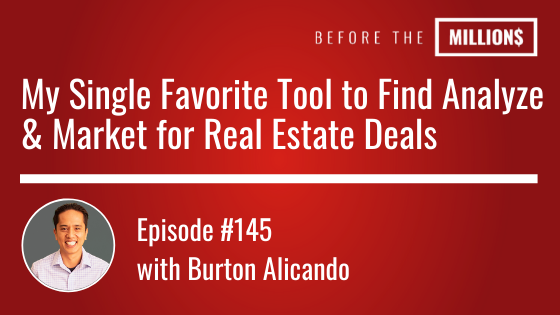 If you are an investor and are tired of subpar data providers, going to the county courthouse, wrongly estimating repair costs or the lack of access to the MLS, then I have a solution for you.
There's a software that I've been using in my business for quite some time now, I've fostered its use so much so that instead of the 10 different apps that I used before, I now only need 1 other software (said other software will be explain in detail in an upcoming episode).
For this amazing episode, I brought on Burton Alicando, the Senior Product Specialist for the software that I use to find, analyze and market my real estate deals.
Key Points From This Episode:
The biggest mistake newbie investors make when pulling lists or choosing a real estate software for their business
A way around the outdated time consuming way of getting the data you need to make offers
The misconception that you need a realtor for MLS level data
A way around the anonymity of non disclosure states and sold prices of homes
How a newbie investor can be spot on with estimating repair costs
How you can find, analyze and market to your leads with one tool
This is one of my favorite software tools to date because it does so much in my business. If you are an investor, here are some of the things you can look forward to with this software:
Generating Leads Lists (with MLS level data) – Pre-foreclosure, vacant, bankruptcy, utility liens and much more
Vetting Properties – Comparables, mortgage balances, tax info, title research and much more
Calculating Rehab Costs – Labor/material cost data is sourced at the county-level nationwide so allow the software to guide you through the right renovation budget
Marketing Tools – Postcards, email marketing, voicemail drops and much more including your own customizable landing page website.
When you sign up, it will come with a full access 7-Day trial to make sure that you absolutely love the software before you pay anything.
Links Mentioned in Today's Episode:
To learn more visit: beforethemillions.com/deal