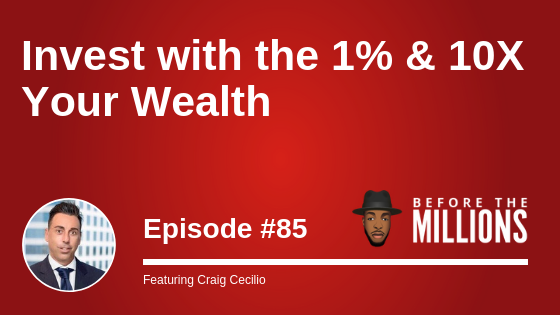 Craig Cecilio is the CEO and founder of a crowdfunding real estate platform that gives average investors access to institutional-quality investments through the power of crowdfunding. By focusing his passions for real estate and technology, Craig has developed an online alternative asset investment platform known as DiversyFund.
On today's episode we cover a myriad of topics that the rich would never want exposed on air. We uncover what really goes on behind the scenes at the "good ole boys" club and how the ultra wealth invest. You'll be shocked to discover the type of opportunities they get as opposed to the rest of us. But not to fear, we all go in detail on how to invest alongside the 1 %.
Key Points From This Episode:
How to 10X your wealth in 5 years
The secret world of real estate syndication
Where the 15% returns are and how you can access them
What crowdfunding is and why its becoming so popular
How Kobe Bryant turned a 6 million dollar investment into 200 million dollars
Links Mentioned in Today's Episode:
Before the Millions Book: The Science Of Getting Rich
Listen to this books for free!
Access The Best Strategies, Tips & Advice !
Every week, we send an email sharing my best advice, tips and strategies related to Real Estate Investing. Each of these weekly emails contain relevant and actionable information that can help you no matter where you are in your investing journey.