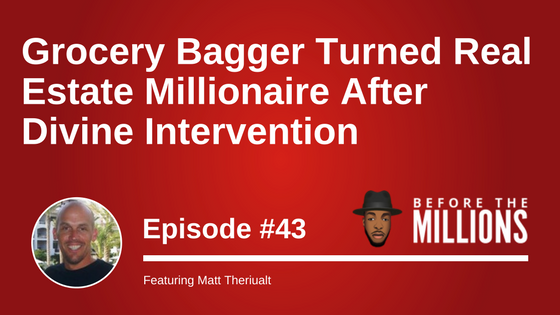 From a 7-Figure Record Label to $7 an hour as a grocery bagger. Matt Theriualt, today's guest, encountered a pivotal moment in has life as he was in the middle of bagging groceries for a young lady and his life was never the same. It is during our darkest times that our true destiny is formed. In the 9th inning when your back is against the way and you completely focus on success because you have no choice, that's when I've found divine intervention to occur.
Matt am a fifth-generation California native and Desert Storm Veteran (USMC) and has worked as a full-time real estate professional since 2003. After building a small real estate empire with hardly using one dime of his own money or one point of his own credit (mostly because he was lacking in both), he discovered that he had a knack for simplifying the complicated, implementing systems and producing passive cash flow.
Matt is an ordinary guy who once had a goal to be successful in real estate investing and become a master of the "multiple streams of passive income" concept. He is an inspiration to many of us when believe that we do not possess what it takes become a successful investor. Tune in as Matt share a wealth of knowledge when it comes to finding and interacting with motivate sellers. I guarantee that you will learn more than a trick or 2 when it comes to working with a real estate owner looking to sell their property.
Links mentioned in the show:
Access The Best Strategies, Tips & Advice!
Every week, we send an email sharing my best advice, tips and strategies related to Real Estate Investing. Each of these weekly emails contain relevant and actionable information that can help you no matter where you are in your investing journey.