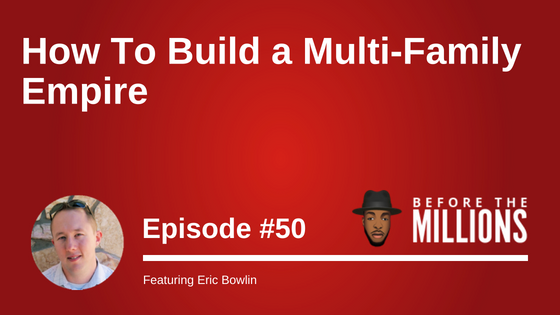 Eric accidentally got into real estate back in college when he and his wife decided to buy a house near the University. They purchased a 3 unit building, living in one unit and renting the rest. One night while watching a movie with his wife, he heard a knock on the door. It was one of their tenants there to pay rent. At that moment he realized that I would become a real estate investor. That was the easiest money he had ever earned in his entire life. At that moment he realized that I would become a real estate investor.
Eric Bowlin started investing in real estate in 2009 with the purchase of his first three family property. He got into real estate full time at the end of 2011 and became financially independent at the end of 2015 when he quit his job forever.
Now, Eric is working on larger multifamily deals and syndications. He owns or is a GP on over 470 doors in Massachusetts and Texas. Also, Eric talks constantly about financial independence and is the founder of IdealREI (a top resource for real estate investors trying to achieve financial freedom) and Stacking Millions (a community where investors can learn and grow together).
Key Points From This Episode:
How Eric went from full-time student to building a multifamily empire
The story of him convincing his wife during a deployment to start to invest in real estate
Importance of taking action and why you shouldn't let people caution you away from investing
The Differences between real estate business vs. real estate investing
How Eric found his niche in real estate investing
The break down of his process of finding deals, talking to owners and creating offers
What steps Eric took to escape the rat race
Links Mentioned in Today's Episode
Access The Best Strategies, Tips & Advice!
Every week, we send an email sharing my best advice, tips and strategies related to Real Estate Investing. Each of these weekly emails contain relevant and actionable information that can help you no matter where you are in your investing journey.