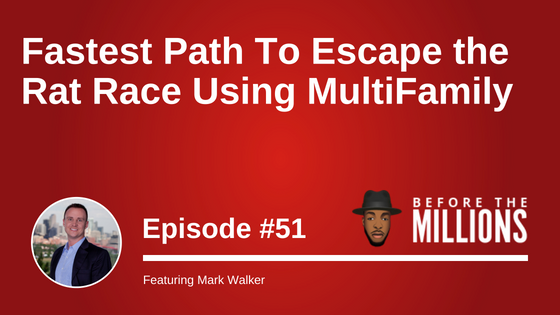 Mark was able to go from being a part-time investor with a full-time job in high tech, to someone who quit the corporate rat race in pursuit of his passion and now thrives as a multifamily investor. Mark Walker is founder of Luxmana Investments, which focuses on residential and multifamily investments.
Mark has been an active real estate investor since 2004, so he brought a wealth of knowledge with him when he founded Luxmana Investments in 2011. He started out as a part-time investor––holding a full-time job in high tech––and his passion for real estate enabled him to escape the rat race of Corporate America.
Prior to Luxmana, Mark succeeded in multiple development projects in the trendy Highlands and Berkley areas of Denver, Colorado. Since then, he's acquired dozens of residential and multifamily income properties through Luxmana Investments LLC, which he founded in 2011, and Peak Margin Partners LLC, which he co-founded in 2013.
Mark has successfully overseen the operations of his own assets, and that of other investors, in Colorado, Texas, Florida and Illinois. This includes his active involvement with MBP Capital and Catalyst Multifamily Management—a highly successful multifamily investment, management and brokerage firm. During this tenure, Mark has had property management oversight of his Dallas area multifamily portfolio, while assisting with acquisitions and dispositions of assets as well.
Mark also spent over a decade at Seagate Technology where he held senior leadership roles in Marketing, Product Line Management and Sales. In addition to being a licensed real estate broker in Colorado, Mark holds a degree in Marketing from Oral Roberts University in Tulsa, Oklahoma. In his spare time, he enjoys theater, camping, cycling, and spending time with his wife and daughter.
Key Points From This Episode:
How Mark earned his P.h.D. in real estate during his time of testifying in a grand jury indictment in the largest prison sentencing in Colorado for fraud
Why every investor must invest in mentorship to be successful
Importance of asking a lot of questions when learning real estate investing
What first time investors can do now to escape the rat race
#1 action step you can do today without spending a dime
The value in learning how to relate to people and meeting people on their level
How to choose your investment criteria
Type of questions you should ask property managers when analyzing deals (What are the rents in this area? What the property might rent for? What areas are you seeing the shortest marketing time? What features in property that you see is the easiest to rent?)
What is a cash-on-cash return in real estate investing?
How Mark helps people conquer their fear and inaction with investing
Links Mentioned in Today's Episode
Access The Best Strategies, Tips & Advice!
Every week, we send an email sharing my best advice, tips and strategies related to Real Estate Investing. Each of these weekly emails contain relevant and actionable information that can help you no matter where you are in your investing journey.