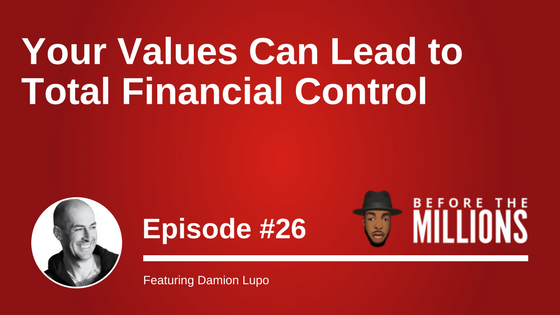 Today on the show we are joined by American Sensei, 4-time Black Belt and Founder of Yokido, Damion Lupo.
Damion is a financial mentor to the Transformation Nation and author of the bestselling retirement book, Total Control Financial Guide to the QRP, as well as The Quick and Dirty Guide to Gold and Silver, and Reinvented Life.
Damion's real estate investing journey started 20 years when he bought his first rental with nothing by a Visa card.
He believes that every human has a life of freedom and joy awaiting them once they break through the confusion and chaos that comes from financial illiteracy. Damion aims to inspire and empower every willing soul towards financial freedom and abundance through his experience and insights gained in his years of martial arts study, trench warfare, and financial training wealth creation.
Inside this episode Damion shares his journey of realizing that he was not following the right path for his life, and how he transitioned into his purpose. The conversation, at its core, is based on crucial mindsets and adding value, really changing your perception of what you think is possible. So if you are at that point in your life where you simply need the motivation to take action, then this episode is definitely for you.
Key Points From This Episode:
How to use the resources at your disposal to get started towards success.
Damion's mindset shift that helped him transition into a new life path.
Why most people become afraid because they adopt other peoples' fears.
Understanding why it is critical to make the choice to go on our own "hero's journey".
Why Damion ended up being 30 days away from bankruptcy and how he turned it around.
The two major entrepreneurial moments that shifted the course of Damion's path.
What it means to create value for others and why it is paramount to first having value.
Learning to focus on gaining fulfillment instead of focusing on finding success.
Why Damion shifted his focus to teaching others and empowering them with confidence.
The Law of Awareness; getting down to the core of what you want in your life.
Find out how to really be present in your life to truly make an impact.
Jarring yourself loose from stagnant beliefs by constantly learning.
How Damion has designed his life with a focus on personal freedom.
What it means to "become the millions" and moving through the process of self-acceptance.
Tweetables:
[spp-tweet tweet=""The most powerful things in our lives happen when we're willing to make a choice and go into the darkness." — @damionlupo"]
[spp-tweet tweet=""The truth is, we all have something that we're supposed to be doing and we may not know what it is yet. But if we stay in the security space, we're never going to find it." — @damionlupo"]
[spp-tweet tweet=""If you're going to create value for people, you have to come from value." — @damionlupo"]
[spp-tweet tweet=""It's the confidence that you have the ability to create; that's freedom." — @damionlupo"]
[spp-tweet tweet=""Your money really tells a story. Often times people don't like the story it's telling." — @damionlupo"]
Links Mentioned in Today's Episode:
Myers Briggs Personality Test — http://www.myersbriggs.org/
Myers Briggs online test — https://www.mbtionline.com/TaketheMBTI
Damion Lupo — https://damionlupo.com/
Total Control Financial — http://totalcontrolfinancial.com/
Rich Dad Poor Dad by Robert Kiyosaki
The Hero's Journey by Joseph Campbell
The Internet of Money by Andreas M. Antonopoulos
Smartsheet — https://www.smartsheet.com/
Access The Best Strategies, Tips & Advice!
Every week, we send an email sharing my best advice, tips and strategies related to Real Estate Investing. Each of these weekly emails contain relevant and actionable information that can help you no matter where you are in your investing journey.