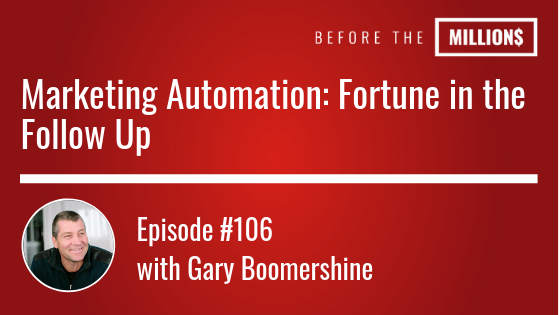 With a family legacy in the real estate niche, and a long successful career in enterprise and emerging technology markets, Gary Boomershine noticed the glaring opportunity to leverage people, processes and technology to gain a leg up in a changing and competitive marketplace. As he worked to develop and use the initial product and service, he saw his real estate business flourish by allowing him to work smarter – not harder and focusing on the one thing that makes money – talking to sellers and making offers.
On today's episode, we talk with Gary about scaling our real estate business, more specifically through our sales and marketing efforts. We talk heavily about lead capture, lead management and lead follow up. The fortune in this industry is in the follow up so this episode is gold for building a great follow up system.
Key Points From This Episode:
Making money vs. being wealthy
How to calculate your hourly rate
What is OPT, OPE and OPR
How a CRM can benefit your Real Estate Business
Links Mentioned in Today's Episode:
Before the Millions Book:
Traction by Gino Wickman
Samurai Selling by Chuck Laughlin
How I Raised Myself From Failure to Success in Selling by Frank Bettger
Listen to this books for free!
Lifestyle Design App: Workflowy
Special gift from Gary and Daray for the BTM listeners – Click here!