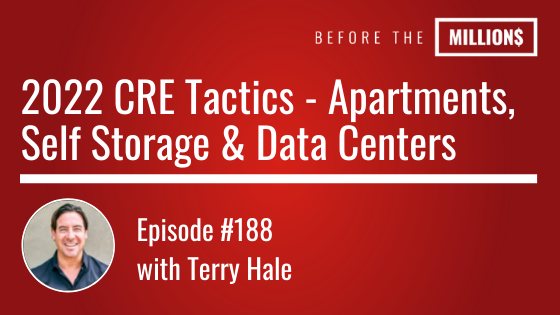 Today's guest, Terry Hale, is a commercial real estate rockstar with 20+ years experience in the industry. As an investor, Terry experienced the ups and downs of varying niches in the commercial space. Starting as an apartment investor, Terry abruptly realized that the self storage space was where he wanted to settle. It quickly proved to be one of the few asset classes that could produce in the worst of economy's.
Today we discuss Terry's transition to self storage, why he's such a strong advocate for it and where he see's commercial real estate going in the next few years. By the end of the episode, you will be crystal clear on the most important things you newbie investors to know and do when getting into apartments, self storage and data centers.
Key Points From This Episode:
How to calculate Cap Rate
Why Self Storage vs. Traditional Apartments in 2021?
Why Data Centers can be a sneaky lucrative asset class
How Attorney's kill deals
Why talking to Brokers is the most powerful thing a newbie can do
Networking or Underwriting, what's more important?
Terry's 3 Prong approach for analyzing deals
Links Mentioned in Today's Episode:
Recommended Book:
Think and Grow Rich Napoleon Hill
Lifestyle Design App: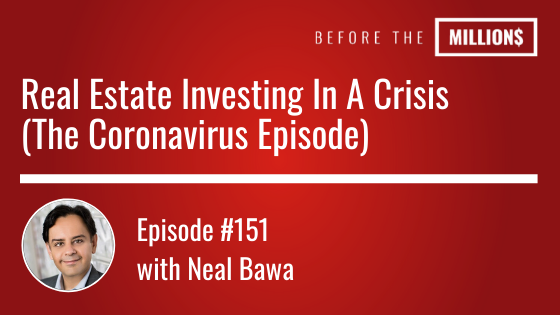 COVID-19 is the biggest news headline since 9/11. This virus has had and will continue to have massive effects on international markets for years to come.
In the meantime, what are real estate investors doing about their property? What are newbie investors doing about getting started? What are home buyers and sellers doing during this time of uncertainty? Is now the perfect time to buy real estate or is it time to hold out?
Today's guest, Neal Bawa is a technologist who is universally known in real estate circles as the Mad Scientist of Multifamily. Besides being one of the most in-demand speakers in commercial real estate, Neal is a data guru, process freak and outsourcing expert. Neal treats his $250+ million-dollar portfolio as an ongoing experiment in efficiency and optimization.
On today's show, Daray and Neal discuss the effects of the coronavirus in the 2020 real estate market. You'll learn if and when to jump in and you'll also understand the real effects, backed by data, of the different real estate asset classes as a whole.
Key Points From This Episode:
How to use public city data to select your real estate investing market
Bold prediction: Lower real estate prices for the next 1 to 2 quarters.
Bold prediction: Buy Strip Malls for 50-60% off
Neal prediction on the healthcare industry boom in the next 10 years (i.e medical office REITs)
Worldwide forgiveness of all debt coming soon? (Debt Jubilee)
Links Mentioned in Today's Episode:
Recommended Book:
Miracle Morning with Hal Elrod
Listen to this books for free with Audible!
Lifestyle Design App: