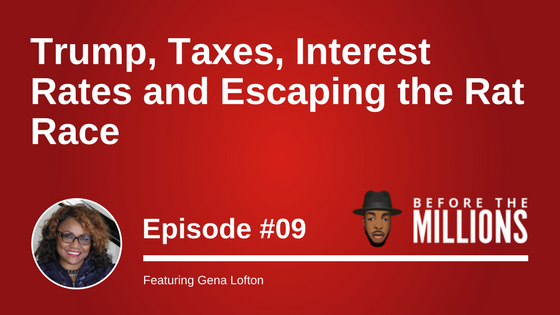 On today's show we welcome Gena Lofton, founder of Passive Income Advisors. Abandoned by her parents, homeless, and eventually growing up in foster care taught Gena that financial literacy is one of the major problems in the world today. Challenging the status quo of going to school, getting a job, investing in a 401(k) of well diversified stocks, bonds and mutual funds will not work today. The fallacy resulted in baby boomers taking out $10 billion in Reverse Mortgages in 2016 alone. Today's economy, requires everyone to have tax efficient/inflation hedged, streams of income producing assets sufficient to cover their expenses as soon as possible. Gena recently released her book Escape the Madness: 10 Steps to Get Out of the Rat Race
, to help others implement the steps she used to become financially free.
Gena has a wide variety of professional experience, ranging from Strategy and Technology for DIRECTV which helped fuel the growth of the business and sale to AT&T to growing Ernst & Young's Management consulting business through the sale to Cap Gemini. Gena also served on the Board of Los Angeles City College Foundation. Gena has a Master's Degree in Business Administration and a Bachelor's in Political Science. Today, Gena spends time overseeing her assets which consist of over 4k residential units, oil and gas investments, assisted living facilities, a resort in Belize, an online business, Natural Resource companies, and AT&T.
Key Points From This Episode:
Gena tells us her story about how she grew up homeless.
Hear how Gena's journey has helped her in her success today.
Find out about Gena's life in her 20's, going to college and working at Ernst & Young.
Learn how the book Rich Dad, Poor Dad changed Gena's life.
Understand how Gena got involved in real estate.
Find out why people shouldn't default to investing in stocks and bonds.
Discover why you need to understand taxes and how to reduce your taxes.
Hear Gena's next steps to achieving her new goal of getting out of the rat race.
Understand how Gena used debt and reducing taxes to help her reach her goal.
Discover how The Federal Reserve is reducing their balance sheet.
Gena tells us her specific meaning and definition of value added real estate.
Hear about Gena's Before the Millions goal of helping 1 million people exit the rat race.
Find out who Gena's book is for and how it can help people.
Learn how 20-30% of Gena's investments are in the stock market and various companies.
Discover what advice Gena has for real estate investors entering the market.
Learn what Gena means by saving at 0%.
Discover how Gena never bought any liabilities, only assets.
Hear Gena's take on school; when you should or shouldn't go to school.
Find out why people need to understand that money is debt.
Discover what Trump being in office means for real estate investors.
Hear about Gena's resort in Belize, Mahoagny Bay Village.
And much more!
Tweetables:
[spp-tweet tweet=""An asset feeds you and a liability eats you." — @genaloftonPIA "]
[spp-tweet tweet=""I only do value added real estate." — @genaloftonPIA"]
[spp-tweet tweet=""If you didn't do it with free money, you'll never be able to do it when it ain't free." — @genaloftonPIA "]
[spp-tweet tweet=""Educate yourself, understand your market, do the numbers, and then the numbers will tell you what to do." — @genaloftonPIA"]
Links Mentioned in Today's Episode:
Gena Lofton — https://passiveincomeadvisors.com/
Gena on Twitter — https://twitter.com/genaloftonPIA
Escape the Madness: 10 Steps to Get Out of the Rat Race
Rich Dad Poor Dad
Rich Dad's CASHFLOW Quadrant
Tom Wheelwright's book Tax Free Wealth
Edward Griffin's book The Creature from Jekyll Island
Mahogany Bay Village — https://www.mahoganybayvillage.com/
Access The Best Strategies, Tips & Advice!
Every week, we send an email sharing my best advice, tips and strategies related to Real Estate Investing. Each of these weekly emails contain relevant and actionable information that can help you no matter where you are in your investing journey.