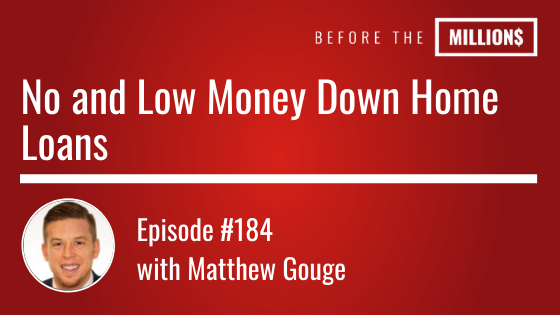 Does your mortgage broker invest in real estate? If not – It's possibly one of the best way to make sure that they have your best interest at hand as an investor. The only way to think like an investor is to be one.
Today's guest, Matthew Gouge aka Matt The Mortgage Guy negotiated over 250 loans last year alone for his clients – all while actively building up his real estate portfolio of single family homes and small multifamily residences. On today's show we discuss exactly how first time homebuyers as well as seasoned investors can take advantage of the popular no and low money down loan programs that are offered to most people. With interest rates at an all time low, what are you waiting for?
Key Points From This Episode:
The difference between the 4 no and low money down loans
The power of house hacking a 4-plex
Why the 2021 real estate growth is nothing like the 2006 real estate growth
Why Matt doesn't recommend a down payment assistance program
How to use a owner occupied mortgage to grow your investment portfolio
Links Mentioned in Today's Episode:
Recommended Book:
Shoe Dog by Phil Knight
Lifestyle Design App: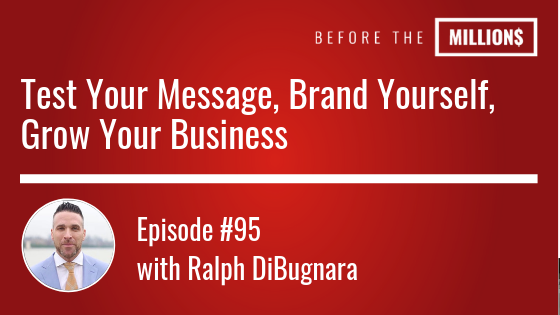 As a mortgage banker with an eye on millennial demographic and a reputation as a media liaison, Ralph is redefining the role of the banker in today's buyer centric real estate market. There is a new world real estate game and if you're not branding yourself in the 21st century no matter your age or background, Ralph believes that you are missing out on so much opportunity.
On today's show we discuss exactly what it means be become a niche brand as a real estate investor, professional or entrepreneur. In today's world, its becoming more and more imperative to carry an online/social media presence to grow and expand your business. If you haven't yet thought about social media as a source for business, this episode is for you.
Key Points From This Episode:
Where interest rates are heading in 2019
08 crash from a New York brokers' point of view
The millennial buyers market share
How to use PR to brand yourself
Using Instagram to grow your business
How to test your message
Links Mentioned in Today's Episode:
Before the Millions Book:
Unbreakable by Tony Robins
Listen to this books for free!
Lifestyle Design App: LinkedIn
Before The Millions Workshop: Create and Grow Your Real Estate Portfolio
Before The Millions Mastermind: Expand Your Real Estate Related Business and Life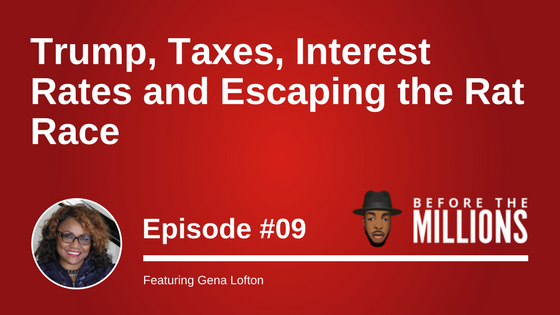 On today's show we welcome Gena Lofton, founder of Passive Income Advisors. Abandoned by her parents, homeless, and eventually growing up in foster care taught Gena that financial literacy is one of the major problems in the world today. Challenging the status quo of going to school, getting a job, investing in a 401(k) of well diversified stocks, bonds and mutual funds will not work today. The fallacy resulted in baby boomers taking out $10 billion in Reverse Mortgages in 2016 alone. Today's economy, requires everyone to have tax efficient/inflation hedged, streams of income producing assets sufficient to cover their expenses as soon as possible. Gena recently released her book Escape the Madness: 10 Steps to Get Out of the Rat Race
, to help others implement the steps she used to become financially free.
Gena has a wide variety of professional experience, ranging from Strategy and Technology for DIRECTV which helped fuel the growth of the business and sale to AT&T to growing Ernst & Young's Management consulting business through the sale to Cap Gemini. Gena also served on the Board of Los Angeles City College Foundation. Gena has a Master's Degree in Business Administration and a Bachelor's in Political Science. Today, Gena spends time overseeing her assets which consist of over 4k residential units, oil and gas investments, assisted living facilities, a resort in Belize, an online business, Natural Resource companies, and AT&T.
Key Points From This Episode:
Gena tells us her story about how she grew up homeless.
Hear how Gena's journey has helped her in her success today.
Find out about Gena's life in her 20's, going to college and working at Ernst & Young.
Learn how the book Rich Dad, Poor Dad changed Gena's life.
Understand how Gena got involved in real estate.
Find out why people shouldn't default to investing in stocks and bonds.
Discover why you need to understand taxes and how to reduce your taxes.
Hear Gena's next steps to achieving her new goal of getting out of the rat race.
Understand how Gena used debt and reducing taxes to help her reach her goal.
Discover how The Federal Reserve is reducing their balance sheet.
Gena tells us her specific meaning and definition of value added real estate.
Hear about Gena's Before the Millions goal of helping 1 million people exit the rat race.
Find out who Gena's book is for and how it can help people.
Learn how 20-30% of Gena's investments are in the stock market and various companies.
Discover what advice Gena has for real estate investors entering the market.
Learn what Gena means by saving at 0%.
Discover how Gena never bought any liabilities, only assets.
Hear Gena's take on school; when you should or shouldn't go to school.
Find out why people need to understand that money is debt.
Discover what Trump being in office means for real estate investors.
Hear about Gena's resort in Belize, Mahoagny Bay Village.
And much more!
Tweetables:
[spp-tweet tweet=""An asset feeds you and a liability eats you." — @genaloftonPIA "]
[spp-tweet tweet=""I only do value added real estate." — @genaloftonPIA"]
[spp-tweet tweet=""If you didn't do it with free money, you'll never be able to do it when it ain't free." — @genaloftonPIA "]
[spp-tweet tweet=""Educate yourself, understand your market, do the numbers, and then the numbers will tell you what to do." — @genaloftonPIA"]
Links Mentioned in Today's Episode:
Gena Lofton — https://passiveincomeadvisors.com/
Gena on Twitter — https://twitter.com/genaloftonPIA
Escape the Madness: 10 Steps to Get Out of the Rat Race
Rich Dad Poor Dad
Rich Dad's CASHFLOW Quadrant
Tom Wheelwright's book Tax Free Wealth
Edward Griffin's book The Creature from Jekyll Island
Mahogany Bay Village — https://www.mahoganybayvillage.com/
Access The Best Strategies, Tips & Advice!
Every week, we send an email sharing my best advice, tips and strategies related to Real Estate Investing. Each of these weekly emails contain relevant and actionable information that can help you no matter where you are in your investing journey.