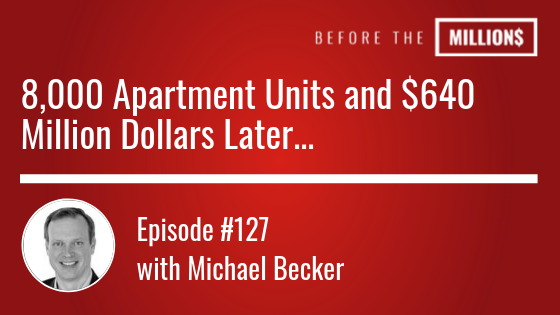 Michael Becker is a banker turned seasoned apartment syndicator with 8000+ units acquired. He currently has $650 Million assets under management. Michael is an expert in commercial financing, including underwriting, due diligence, financial analysis and preparation of marketing materials.
On today's episode, Michael and I discuss the current state of the real estate market and what a new investor needs to know to get started with apartments. It's not always about what you know, in fact it's almost never about what you know. We'll discuss the power of leverage and taking notice of the resources in your circumference.
Key Points From This Episode:
Why Michael made the move from single family to multifamily
Different ways to raise capital for deals
How to create a consistent pipeline of opportunities in any market
How to avoid taxes legally
Michaels advice for getting started in real estate
How to work with brokers on apartment deals
The difference between an active and passive apartment investor
Links Mentioned in Today's Episode:
Recommended Book:
Tax Free Wealth
Listen to this books for free!
Lifestyle Design App: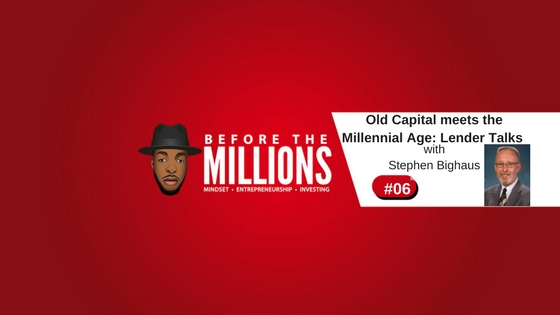 Today on the show, I am joined by Steve Bighaus. Steve is in the lending business and today he talks us through all things lending. We discuss everything from choosing the right lender to understanding how to qualify for a loan as a new investor. Of course, we get into his personal life a little bit as well and find out exactly how he was able to loan $300 million in real estate transactions.
Steve started out as a passionate musician with long hair, and one day decided to join the U.S. Air Force. After his time serving in the Air Force, Steve moved into the banking world. He has over 24 years experience in the mortgage industry and now maintains a focus on servicing the real-estate investor by offering aggressive financing options and resources for buyers interested in purchasing or refinancing their investment property. Steve is recognized nationally as an industry expert, and the knowledge that he has enables him to find financing for people even when they have had difficulty in the past.
Key Points From This Episode:
Steve shares his incredible story and how he started his journey in the real estate world.
Find out how Steve went from being a musician with long hair, to joining the Air Force.
Understand which characteristics to look for when finding a lender for your situation.
Learn more about how Steve has structured his team to understand real estate investors.
Why Steve values great customer service above all in his business.
Find out how Steve was able to scale to loan $300 million in real estate transactions.
Hear Steve's advice for new investors to take advantage of starter programs.
As a new investor, find out what type of property is the best to invest in at the start.
Steve shares his daily routine and the every day habits that contribute to his success.
Why Steve's wife was the most supportive and influential in his journey.
And much more!
Tweetables:
[spp-tweet tweet=""The thing about investment property lending is, you've got to have cash." — @teambighaus"]
[spp-tweet tweet=""It's always tough to make that first step." — @teambighaus"]
Links Mentioned in Today's Episode:
Daray's Bigger Pockets Article
Steve Bighaus's Website: Sierra Pacific Mortgage
Audible free book trial — audibletrial.com/beforethemillions
Steve's phone number — 206-930-1801
Team Bighaus — http://teambighaus.com/
Fannie Mae — www.fanniemae.com/
Freddie Mac — www.freddiemac.com/
The Best Real Estate Investing Advice Ever Show — joefearless.com/show
Access The Best Strategies, Tips & Advice!
Every week, we send an email sharing my best advice, tips and strategies related to Real Estate Investing. Each of these weekly emails contain relevant and actionable information that can help you no matter where you are in your investing journey.