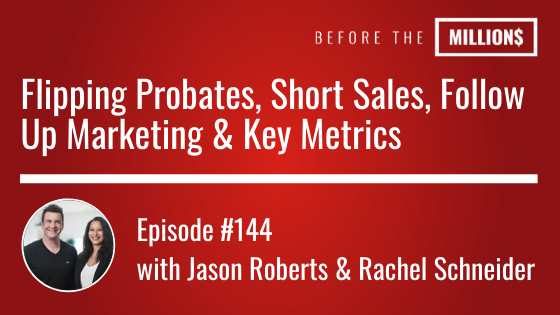 Jason Roberts and Rachel Schneider have always been fascinated by the world of real estate. In 2001, while still in their early 20's, Jason and Rachel decided that instead of working for someone else, they would rather be in charge of their own destiny and opened a mortgage company.
They eventually built that business into a multi-million dollar company, where they closed over 3000 real estate transactions. Then the market crashed and they had to find a new way to use their real estate talents. That is when they went into real estate investing and started down a new path.
But since, implementing the real estate strategies they have honed over time they have since closed well north of 300+ real estate transactions with pre-foreclosures/short sales, wholesales and probates.
Key Points From This Episode:
How Jason and Rachel started and grew their mortgage business to over 100 employees
The ins and outs of the short sale business
How to grow a multi million dollar business with pre foreclosures & probates
Outside the box follow up systems with sellers to close more deals
The 7 key metrics to track in your real estate business
The impact a personality test like DISC and Myers Briggs can have on your life and business
Links Mentioned in Today's Episode:
Recommended Book:
10X Rule by Grant Cardone
How to Win Friends and Influence People by Dale Carnegie
Think and Grow Rich by Napoleon Hill
Listen to these books for free with Audible!
Lifestyle Design App: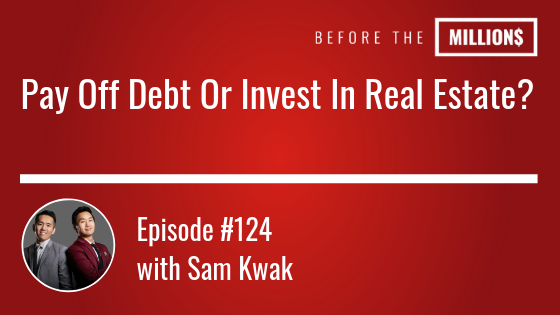 Immigrated from South Korea in 1999, the Kwak family only had $2000 cash in hand and a small 1 bedroom apartment in Albany Park area in Chicago. Today, Sam and Daniel have scaled to 75 units and are helping others to get involved in the industry!
On today's show Sam and I discuss the thought process surrounding debt and real estate. Most people believe that it proper to pay off debt before they consider investing in real estate, but is this true? Find out on today's show.
Key Points From This Episode:
What phantom appreciation is
Should you invest or pay debt?
The coming recession and what to do about it
Do banks have the power to call your loan due?
Sam's first 3 years getting 0 deals done
How to be worth 1 million dollars
What the debt acceleration method is
Sam's vision for North Korea
Links Mentioned in Today's Episode:
Recommended Book:
Rich Dad Poor Dad by Robert Kiyosaki
Listen to this books for free!
Lifestyle Design App: