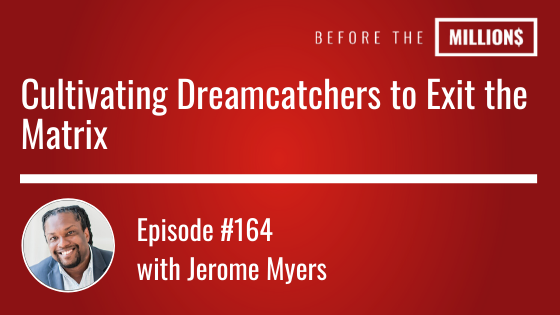 Today's guest, Jerome Myers is a multifamily investor and executive coach that has a knack for repositioning apartment buildings. Having amassed a portfolio well over 200 units, Jerome's competitive advantage is lies in his focus of adding value to those around him.
On a day to day basis, Jerome's work with individuals looking to escape the rat race, or has he coins it "exit the matrix". On today's episode, we discuss Jerome's journey to full time self employment as well as the lessons he's learned along the way.
This episode could be exactly what the doctor prescribed if you're on a journey to catch a dream that is bigger than yourself. Buckle up.
Key Points From This Episode:
Creating abundance in the 6 focus areas of life: Self Image, Relationships, Career, Health, Prosperity and Significance.
Jerome's desire and plan to switch from full time engineer to full time investor
How to cultivate a 'dreamcatchers' mindset and schedule
The truth behind your relationship with money
How to become successful in the apartment business starting from scratch with no resources
Links Mentioned in Today's Episode:
Recommended Book:
Millionaire Success Habits by Dean Graziosi
Listen to this books for free with Audible!
Lifestyle Design App: