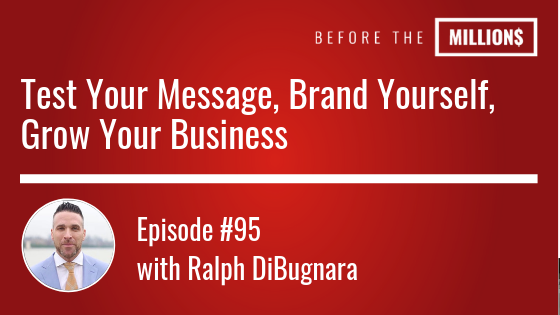 As a mortgage banker with an eye on millennial demographic and a reputation as a media liaison, Ralph is redefining the role of the banker in today's buyer centric real estate market. There is a new world real estate game and if you're not branding yourself in the 21st century no matter your age or background, Ralph believes that you are missing out on so much opportunity.
On today's show we discuss exactly what it means be become a niche brand as a real estate investor, professional or entrepreneur. In today's world, its becoming more and more imperative to carry an online/social media presence to grow and expand your business. If you haven't yet thought about social media as a source for business, this episode is for you.
Key Points From This Episode:
Where interest rates are heading in 2019
08 crash from a New York brokers' point of view
The millennial buyers market share
How to use PR to brand yourself
Using Instagram to grow your business
How to test your message
Links Mentioned in Today's Episode:
Before the Millions Book:
Unbreakable by Tony Robins
Listen to this books for free!
Lifestyle Design App: LinkedIn
Before The Millions Workshop: Create and Grow Your Real Estate Portfolio
Before The Millions Mastermind: Expand Your Real Estate Related Business and Life
Kendra Barnes is on a mission to change the perception of what a Real Estate Investor is supposed to look like by encouraging and empowering millennials to invest in Real Estate. By the age of 30 she owned and managed 7 rental units. No, she did not hit the lottery nor was she left a hefty inheritance. She started out in Real Estate Investment with the goal of building wealth but had no idea what she was doing and jumped in anyways. These days, Kendra and her husband are owners of several investment properties in the Maryland and D.C. areas and educate others on all things real estate.
On today's episode, Kendra and I discuss the challenges of living "The American Dream" and although she started her journey with a great life how she's a big advocate for those who start with with nothing. Kendra is a big fan of Robert Kiyosaki but originally got started with no education in the space and just decided to take the leap of faith. Find out more on Kendra's journey by listening to the interview.
Key Points From This Episode:
How to blow past the mental blocks and get started
Why the American Dream is not the dream after all
How Kendra got started in real estate with no formal education
The benefits of house hacking and living for free
Links Mentioned in Today's Episode:
Before the Millions Book:
Rich Dad, Poor Dad by Robert Kiyosaki
Listen to this books for free!
Lifestyle Design App: