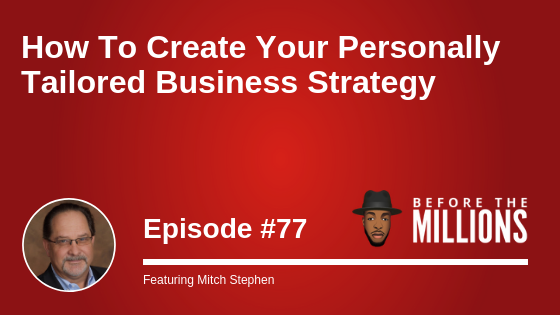 Mitch Stephen has been a self-employed RE investor for 20+ years. His real estate investing career started at the age of 23 when he read "Nothing Down" by Robert Allen. Mitch's company, Independence Day, Inc., has bought and sold over 1,500 properties in and about San Antonio, Tx since 1996. Mitch has recently been named one of the Top 9 RE Investors to follow on Twitter. Mitch's personal expertise includes; Raising Private Money, Finding Bargain Properties, Negotiating Favorable Terms, Dealing with Renovations and Contractors, Selling Houses & Notes with little to NO Discount, and helping others deal with the everyday throws of life in business.
On today's episode, Mitch talks with us about how he earned a first-class degree in entrepreneurship from the streets and why it's important to understand the difference between working on vs. working in your business. Mitch shares his story of becoming an accidental real estate investor after buying his first condo purchase and how he ended up getting paid to live for free. You'll learn what owner financing is and the # 1 difference between making a good living vs. earning millions in passive income.
Key Points From This Episode:
How you can make offers on real estate deals by becoming a professional deal finder
Why Investing in Mentoring Can Propel Your Real Estate Investments
How Mitch brought 62 houses (profited $500K down payments) and created a cash-flow of $32K/month
The story of Mitch paying his wife 1-year salary ($36K) in 1 month and got her to quit her 9-5
Why being a wholesale/flipper will not get you long-term wealth for you and your family (what to do instead)
Links Mentioned in Today's Episode
Mitch's Website: http://1000houses.com/
Mitch's Favorite Books:
Forever Cash https://amzn.to/2CRrJPk
Doing Business with GOD: https://amzn.to/2Erawhg
Think and Grow Rich https://amzn.to/2CLzRkp
Nothing Down https://amzn.to/2NIi7HF
Self-made in America https://amzn.to/2NJRaDB
Freebie: Download any 2 audio books for free when you try audible for 30 days: https://beforethemillions.com/book
Access The Best Strategies, Tips & Advice !
Every week, we send an email sharing my best advice, tips and strategies related to Real Estate Investing. Each of these weekly emails contain relevant and actionable information that can help you no matter where you are in your investing journey.