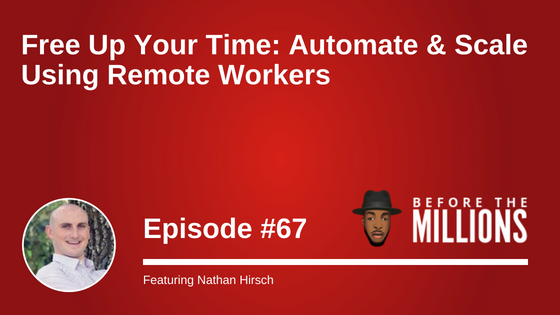 Nathan Hirsch is a serial entrepreneur, expert in remote hiring and eCommerce guru. Selling online since 2010, Nate has sold well over $25 million worth of product through his eCommerce business. He is now the co-founder and CEO of FreeeUp.com, the hands-on hiring marketplace connecting hundreds of online business owners with pre-vetted remote workers.
After building a team of over 30 remote workers, Nathan found he needed a system to make remote-worker hiring better and scalable. His business specializes in assisting eCommerce and digital marketing businesses remove the hassle of having to recruit and interview before making a reliable hire. Less time recruiting & interviewing means more time making money. Nathan understands the frustration: he and his business partner faced the same struggles with hiring online and wanted to redefine the way it was done.
Nathan got a taste of the transition path that most people take (get good grades, go to university and get a nice paying job, etc.). During the summers as a high school kid, Nathan realized working for other people just didn't motivate him so he learned at a very young age that if he wanted to be happy he had to work for himself.
He got a glimpse into the future and realized something had to change if he didn't figure out an alternative path. Nathan majored in Business and started buying and selling textbooks to make extra money on the side.
After successfully selling books from his college campus, Nathan discovered Amazon and become addicted to learning more about this website. Nathan built up this large drop shipping business and multi-million business from his college dorm room and he knew he had to hire people to keep up with the demand.
Nathan learned that hiring is hard to find the right people that actually care about your business. From hiring that's how he found out about the remote hiring world and wanted a faster way of doing it.
On today's episode, we talk to Nathan about his journey from being a broke college kid to starting two successful companies. You'll learn why you shouldn't wait until you're burnt out to start hiring and the pros and cons of hiring employees to your team vs. freelancers.
Nathan shares his advice on what you should outsource first in your business to take your growth to the next level. We also discuss the importance of focusing not only on skill but also attitude and communication when growing your team. Lastly, Nate explains how freedom is the the most valuable benefit of being his own boss and steps you can take today to build your empire.
Key Points From This Episode:
How to find pre-vetted freelancers and why it is important to start hiring out for certain tasks
The story of what Nathan was doing back in college and what his mindset like and how he began to formulate his entrepreneurial path
How Nathan went from being a broke college kid to starting two successful companies
The only way to be truly successful in life is to be an entrepreneur (what impact it had on Nathan)
What brought Nathan to the realization that he had to delegate tasks to start focus on revenue producing activities (how 1 conversation with his accountant changed his mindset about hiring)
How to set a timeline when you should starting hiring people to help you run your business
Why you should hire people slowly so that you can get some your time back (short term projects such us getting a website built, creating banner ads, etc.)
Suggestions for entrepreneurs who have a successful business on how to free up their time and start hiring these tasks out (what techniques you can use to start freeing up your time if you have a business that has taken off overnight and you don't know where you're going to find the time to starting hiring)
Nathan shares how you can come up with a list of everything you do on a day-to-day basis (be specific as possible). Put the list from easiest to hardest (circle the top easiest things) and that's your starting point. If you want to go bigger and challenge yourself, come up with a 2nd list of things you're not good at and what projects does your business need to get to the next level that's on that list that you can't do (these become your immediate projects in the next 3-6 months to hire someone to do this for you)
How has his business helped Nathan live out his personal goals and dream his has for his life
The story of Nathan's greatest mistake when starting his dropshipping business in college and lessons learned from that experience
Pros and cons of hiring employees to your team vs. freelancers
Recommendations on what you should outsource first in your business
The importance of hiring low-level people that can take things off your plate. If you have projects where you have projects your business needs, then hire specialist and expert people who can consult you and give you advice
Why you must focus not only on skill but also attitude and communication (what's your method of picking the best freelancer to bring onto your team if you have two candidates that you like and you're looking for a personality match)
Links Mentioned in Today's Episode
Nathan's Website: https://freeeup.com/
Nathan's Favorite Book: Start with Why
Nathan's Favorite Lifestyle Design App: Yet Another Mail Merge: Simply list all recipients' email addresses in a spreadsheet and write your email template as a draft in Gmail. In one click, all emails are automatically sent to your recipients. Save time and be more efficient in sending mass emails.
Access The Best Strategies, Tips & Advice !
Every week, we send an email sharing my best advice, tips and strategies related to Real Estate Investing. Each of these weekly emails contain relevant and actionable information that can help you no matter where you are in your investing journey.