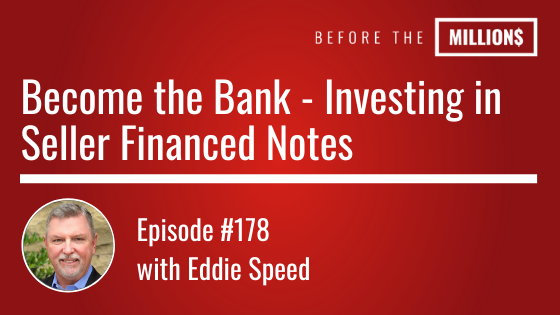 Today's guest Eddie Speed, has over 40 years experience buying distressed notes. Eddie is known as the person the guru's, guru's go to for note investing and passive income. To date, Eddie and his team have bought over 50,000 seller financed notes to the tune of 3.5 billion dollars.
On today's show we talk about why Eddie decided to specialize in flipping and holding distressed notes. Eddie figured out a long time ago that he needed a transactional side of the business (flipping) as well as a wealth building side (holding) and combined both strategies to become one of the nations most premiere note buyers and educators.
Key Points From This Episode:
Why seller financed notes are the next hot topic
How to OWN your own bank
How to capitalize in a market of tired landlords
Why courthouse records are so important for deals
Why wealth is more important than transactional revenue
Links Mentioned in Today's Episode:
Recommended Book:
Never Split the Difference Chris Voss
Listen to this books for free!
Lifestyle Design App: