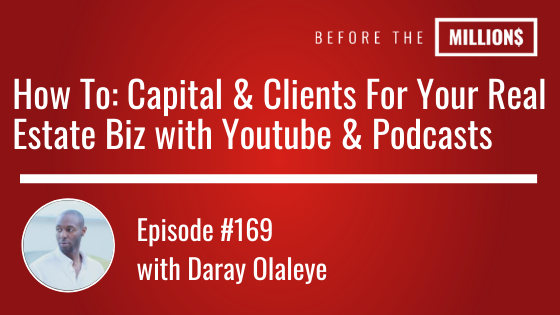 On this episode, you'll learn the exact process for using Youtube and Apple Podcasts for more exposure for your business.
Maybe you're a real estate investor, hard money lender or real estate agent looking for more clients or money for your deals. It's imperative to consistently build relationships.
In this day and age, while some social media channels work more than others, we've decided to explore 2 of the most effective: Youtube and Podcasts.
Being featured/interviewed on the right show can change everything in your business. Whether you're just starting out, an occasional flipper or a super successful syndicator, this episode will show you the step by step process for getting more exposure for your real estate business with the most powerful mediums around.
Links Mentioned in Today's Episode: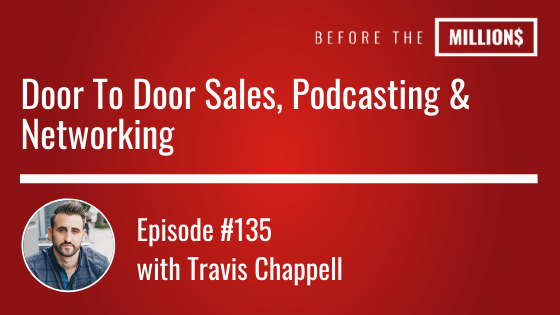 On today's episode, I interview an ex door to door salesman and master networker, Travis Chappell. Travis took his door to door sales skill and found a better route for the lifestyle that he wanted through becoming a networking expert interviewing the likes of Grant Cardone and Ed Mylett by building a podcasting platform. Everyone knows how important it is to create relationships and network with potential clients/partners, but we haven't had an episode exclusive to building these skills until now.
Key Points From This Episode:
How to be a terrible closer but still get deals done

Using the Law of Averages in Sales

Tracking your sales stats to get better

How to have a conversation with Grant Cardone

Why podcasting is better than video
Links Mentioned in Today's Episode:
Recommended Book:
Secrets of A Millionaire Mind
Listen to this books for free with Audible!
Lifestyle Design App: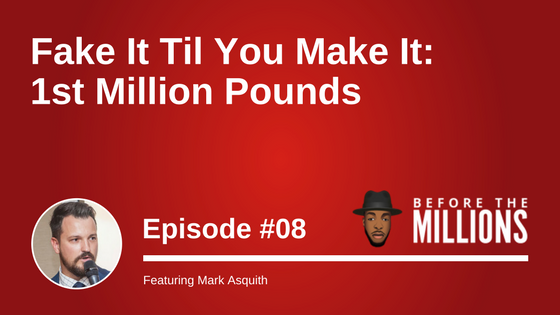 Today on the show we welcome Mark Asquith. Mark is a marketing mogul, and he subscribes to the mantra "fake it till you make it". Mark is the founder of Excellence Expected, the founder of design, brand and web agency Hacksaw and the host of WordPress service Podcast Websites. As well as being a keynote speaker, Mark also helps business owners navigate their lives and optimize their results using his unique mix of experience and straight talking.
In today's episode, we chat to Mark about how he went from doing contract work to building his own businesses and achieving his milestone of one million pounds in revenue. We speak about online marketing, how to create an Avatar for your business, the first steps to growing your business and much more!
Key Points From This Episode:
Mark tells us a bit about his history and where and how he started out.
Hear how Mark spotted a opportunity and was prepared to act.
Find out what Mark learnt through the process of going from contract work to starting his own business.
Discover how Mark started his first business, a design agency.
Learn why Mark thinks his business failed because he doesn't know what he was doing.
Understand what online marketing is and whether there is money to be made in that market.
Hear what an Avatar is and how to go about creating an Avatar for your business.
Mark shares on how and when he achieved his milestone of one million pounds in revenue.
Find out how Mark's relationship with John Lee Dumas came about.
Learn how Mark recognized the need for Podcast Websites.
Discover how Excellence Expected got started and how the idea for it came about.
Hear what Mark's focus and target market is through his different businesses.
Find out some of Mark's first steps to helping people grow their businesses.
Mark tells us about one of the biggest challenges he has had to overcome.
Discover some of Mark's daily habits by hearing more about his daily routine.
Hear why the Branson book is one of Mark's favorites.
Find out what sacrifices Mark knew he had to make before he could get to where he is.
Learn who was essential to Mark's growth before the millions, and why.
Discover why people are scared to be bold and take risks.
And much more!
Tweetables:
[spp-tweet tweet=""Serendipity will knock on your door; the opportunity lies in whether you're prepared to take it." — @MrAsquith"]
[spp-tweet tweet=""I don't think there's a distinction anymore between content marketing and marketing; content marketing is marketing." — @MrAsquith "]
[spp-tweet tweet="" You've got to ultimately discover whether the problem that you believe is there, really exists." — @MrAsquith "]
Links Mentioned in Today's Episode:
Mark Asquith — http://www.excellence-expected.com/
Mark's Free coaching — http://www.excellence-expected.com/freecoaching/
Hacksaw — http://www.hacksawstudio.com/
Podcast Websites — http://www.podcastwebsites.com/
John Lee Dumas — https://www.eofire.com/
Harmonious Clan — http://www.harmoniousclan.com/
Evernote — https://evernote.com/
Richard Branson's book: Losing my Virginity
Access The Best Strategies, Tips & Advice!
Every week, we send an email sharing my best advice, tips and strategies related to Real Estate Investing. Each of these weekly emails contain relevant and actionable information that can help you no matter where you are in your investing journey.