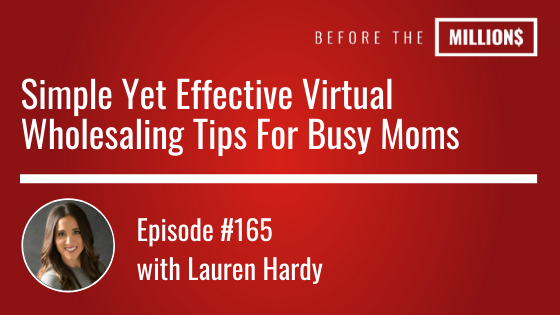 If you're too busy to get started in Real Estate, we have a plan for you.
Lauren Hardy, today's guest and mother of 2, does 50+ deals a year… and virtually. On today's show, we discuss the inner workings of her business and how she was able to get started in real estate with a 1 year old and another on the way. Having done hundreds of deals, Lauren shares her knack for choosing a market and hiring boots on the ground to do the hard work for her.
So if you're a busy professional, mom or dad and you struggle to find the time or the right guidance getting started wholesaling, then you're in for an amazing episode.
Key Points From This Episode:
How Lauren Manages to do 50+ deals a year
Lauren's big why and the divorce that changed everything
How to assess your risk tolerance and your investor type
Finding and vetting boots on the ground for virtual deals
The only 4 metrics that matter when wholesaling homes
Links Mentioned in Today's Episode:
Recommended Book:
Compound Effect by Darren Hardy
Listen to this books for free with Audible!
Lifestyle Design App: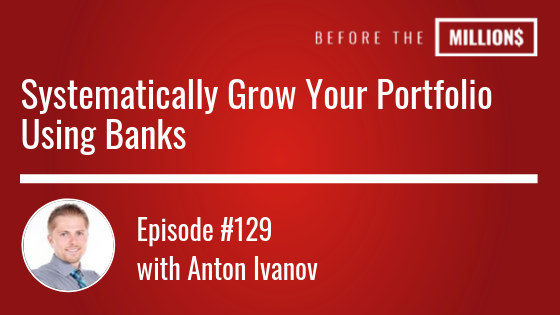 Anton Ivanov is a US Navy veteran, real estate investor and entrepreneur with a portfolio of 40 rental units spread out across 4 states. His portfolio generates over $12,000 in monthly passive income, and requires less than 1 hour a week to manage.
Today, Anton and Daray cover Anton's Before The Millions story and how he has been able to systematically grow his real estate portfolio using 2 things: Traditional Bank Financing and an app called Deal Check. We discuss both in detail on today's episode.
Define DealCheck? – a leading real estate analysis platform for quickly analyzing and comparing rental properties, flips and commercial buildings. DealCheck is used by over 100,000 real estate investors, agents and professionals worldwide. Receive 25% off for life using code BTM25.
Key Points From This Episode:
The power of a mortgage broker
Why work with credit unions instead of banks
Difference between portfolio loans and commercial loans
How Anton is going to transition from his day job for good
Why Anton decided to create an app
How you can analyze deals effortlessly
Links Mentioned in Today's Episode:
Recommended Book:
Think and Grow Rich by Napoleon Hill
Listen to this books for free!
Lifestyle Design App: