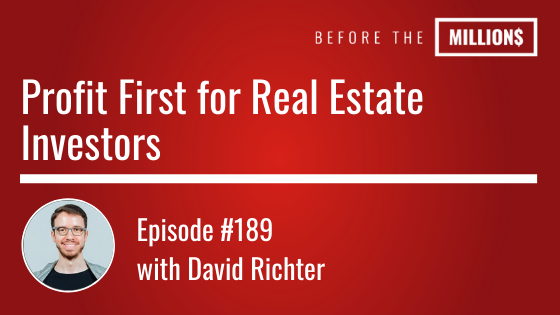 On todays episode, we interview the brand new author of Profit First for Real Estate Investing, David Richter.
David is a long time property investor that has been apart of over 850 deals in his lifetime and through his experiences has learned how best real estate investors can manage their finances as well as their mindset on money. We take abstracts financial concepts and implement tactical strategies on this episode to be great stewards of our own finances on todays show.
Key Points From This Episode:
Infinite banking for real estate investors
Understanding the importance of "passthrough" bank accounts
3 month reserve for potential deals?
David's opportunity to author a new version of Mike Michalowicz's "Profit First" but for real estate investors
Links Mentioned in Today's Episode:
Recommended Books:
Rich Dad, Poor Dad by Robert Kiyosaki
Boundaries by Henry Cloud and John Townsend
Listen to these books for free!
Lifestyle Design App:
Other 'Profit 1st' Episodes:
BTM146: Profit 1st, The 20-Hour Work Week & A 4-Hour Body