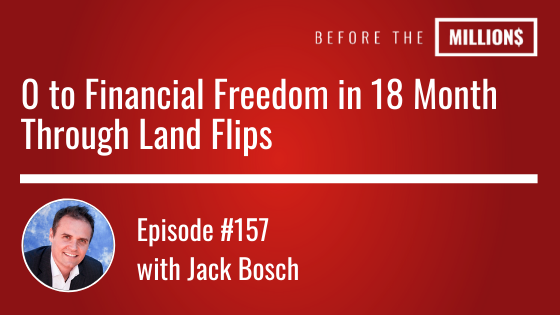 Starting with nothing but two suitcases and a mountain of student debt, Jack immigrated to the US from Germany in 1997. Seeking out his own version of the American Dream, Jack bought and sold over 4000 pieces of property and was able to help build his company into the 3rd largest land investment company in the US.
On today's episode, we discuss Jacks rocket-like trajectory after spending years in corporate america with the same salary year after year. In his first 18 months as a land flipper, Jack amassed his first million dollars and then grew his company to the multi-millions in just a few short years.
Today his family travels 2-4 months a year, designing their business to fit their lifestyle.
Key Points From This Episode:
How to break the earn-spend cycle
Why Jacks immigrant mentality helped pave his success
How Jack made his 1st million in 18 months
Jack's philosophy on Tenants, Toilets and Termites
The biggest reason why most land investors fail
The opportunity for land investing in the next 20 years
Links Mentioned in Today's Episode:
Recommended Book:
Secrets of A Millionaire Mind T. Harv Eker
Listen to this book for free with Audible!
Lifestyle Design App: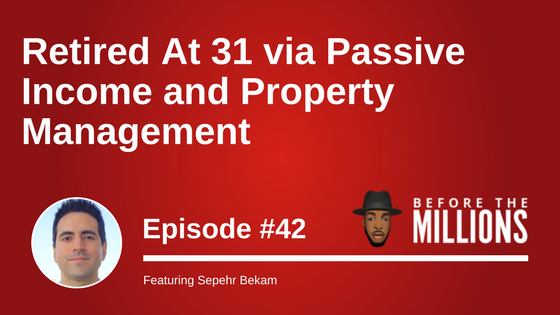 I'm not sure if there is a truly 100% passive investment out there but rental real estate comes pretty close, especially when you have the right property management team in place to oversee the day to day activities of your business.
Today we had the pleasure of interviewing multifamily investor, Sepehr Bekam. In our conversation, we learn about how we can truly create passive income with real estate investing through property management. We learn the pitfalls of hiring a bad manager and we get to hear some horror stories as well.
Sep Bekam is founder and CEO of Bekam Investment Group. He is a former electrical engineer and started investing in 2010. He retired at the age of 31 and is a full-time, professional real estate investor. Sep and his Team have successfully repositioned challenging neighborhoods and have literally "moved the line" to make communities safer, cleaner, and more affordable. Bekam Investment Group currently owns 9 multi-family properties, an office building, and more than 120 houses in 5 states.
You don't want to miss this one!
Links mentioned in the show:
Access The Best Strategies, Tips & Advice!
Every week, we send an email sharing my best advice, tips and strategies related to Real Estate Investing. Each of these weekly emails contain relevant and actionable information that can help you no matter where you are in your investing journey.