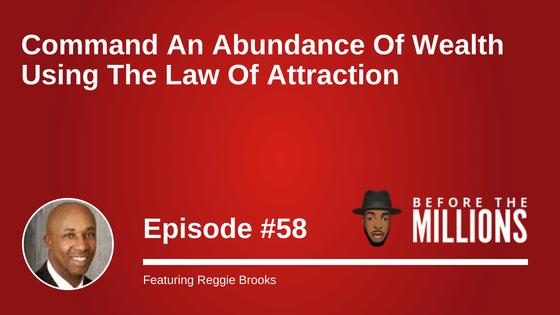 Reggie Brooks has achieved what many people consider to be impossible. He went from making $36,000 per year at the local telephone company, to making over $40,000 per month in his real estate business. Starting out with very little money, Reggie began his investment career in 1986. After taking several real estate investment courses he began investing in rental properties in Los Angeles.
By educating himself about hidden opportunities in real estate and making well placed investments, he has become a multi-millionaire. Reggie is an international speaker/lecturer, an author, and an active real estate investor. Reggie has spoken on programs with such notables as Donald Trump, Magic Johnson, Suze Orman, Anthony Robbins, George Foreman, Rudy Giuliani, Dr. Albert Lowry, Alan Greenspan, David Bach and Russell Simmons, to name a few.
On today's episode, we learned about Reggie's story of growing up in South Central Los Angeles and how he always knew there was more opportunity for him. Reggie began to ask people that had achieved success questions about finance and how to make money and that's what started his entrepreneurial journey. The successful people that Reggie spoke with all had one thing in common. Everyone owned real estate.
As a high school dropout, Reggie realized there wasn't an education requirement to get started in real estate but rather a need to attract your wants and desires through a mix of problem solving and intuition. You'll learn how to leverage the law of attraction to achieve financial freedom and success in your life. Reggie also shares his favorite books for real estate investors about how you can develop the right mindset to live life on your own terms. We also discuss the importance of working of others and the #1 thing you can do today to position yourself to succeed.
Key Points From This Episode:
What got Reggie started down the entrepreneurial and real estate investing journey
The #1 thing he studied to help attract more opportunities for himself and his family
What is the "The Law of Attraction" and how you can use it to achieve financial freedom
How reading the book "Psycho-Cybernetics" changed his life and mindset forever
The importance of working with others (coaches, mentors, friends, etc.) to help you overcome obstacles during your journey as an investor
The # 1 thing you can do today to position yourself to succeed
A day-in-life of Reggie Brooks today and how his routines and habits ensure him to have a prosperous life
Links Mentioned in Today's Episode
Must Read Books:
Reggie's Website: Reggie Brooks
Reggie's Favorite Book: Psycho-Cybernetics
Reggie's Favorite Lifestyle Design App: Road Warrior is a multi-stop route planner that helps you optimize, schedule, and navigate your routes.
Access The Best Strategies, Tips & Advice!
Every week, we send an email sharing my best advice, tips and strategies related to Real Estate Investing. Each of these weekly emails contain relevant and actionable information that can help you no matter where you are in your investing journey.