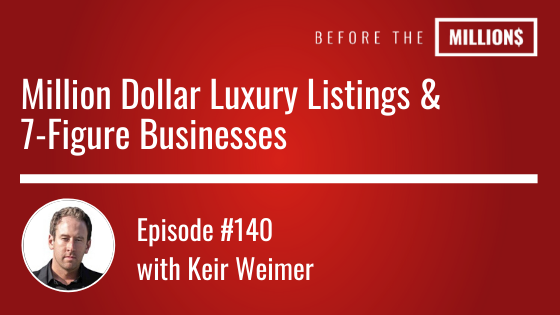 At the age of 23 as a senior in college, today's guest Keir Weimer plead guilty to vehicular manslaughter after a boating accident. Keir served a 5 year sentence in prison that completely changed his life. At first things were hard and his incident followed him everywhere he went but eventually success started finding Keir because he started to use his unfortunate experience to fuel his fire.
Through dedication to his vision, within another 5 years he was able to build multiple 7-figure businesses in the real estate world. Keir started out as a agent and things were difficult his first year – he accumulated thousands in debt and was not able to do a single deal. Off handedly, that same year he was able to develop 30 million dollars in inventory and over 30 listings.
On today's episode, we dive into Keirs reason for jumping straight to luxury real estate with no experience and how important it is to expand your mindset and network.
Key Points From This Episode:
Keirs 1st year as an agent with 0 deals and 40K in debt
How Keir acquired 30 luxury listings valued at 30 million dollars in 12 months with no experience
How Keir partnered with his professor to acquire 250M over 2000 apartments in the US
How to go from $0 in sales to $10 million in sales
A creative way to acquire your 1st waterfront resort
Could the most importantly thing to focus on in your business in 2020 be your personal brand?
Tips on increasing your price point
Links Mentioned in Today's Episode:
Recommended Book:
Think and Grow Rich
Listen to this books for free with Audible!
Lifestyle Design App: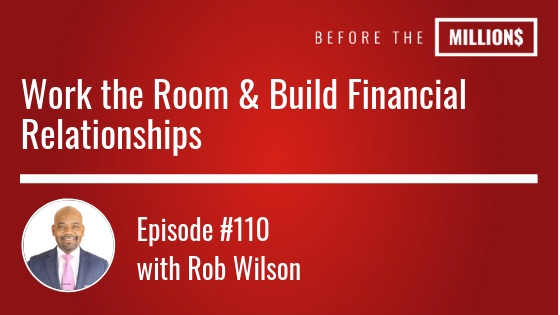 Rob Wilson, today's guest, has been dubbed "Hip Hop's Financial Advisor" because he is a trusted advisor to professional athletes & entertainers; Rob believes that we can all learn from their success. If you're ready to get your financial relationships in order so that you can build real wealth and live the life of your dreams, this episode is for you.
We'll help you through the process of learning how to make more money, spend more wisely, and build better relationships.
Key Points From This Episode:
How to be intentional with your wealth
How Rob has made his connections with celebrities
How Rob perfected his relationship building skills
The Honesty & Trustworthiness moral code
The best way to attend social events by yourself
3 Powerful relationship building books
Relationship Building Books:
-Never Eat Alone
-How to Work a Room
-How to Win Friends and Influence People
Links Mentioned in Today's Episode:
Before the Millions Book:
Think & Grow Rich
Listen to this books for free!
Lifestyle Design Apps: