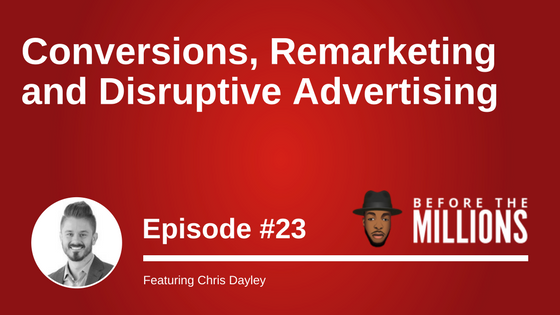 On this episode we welcome Chris Dayley, a highly successful entrepreneur in the digital marketing space. Chris is the founder of Dayley Conversion, an A/B testing guru, CRO speaker, and User Experience proponent. He started his own company with the ultimate goal of achieving lifestyle design.
Chris eventually got the opportunity to merge his company with Disruptive Advertising, a digital marketing company whose mission is to improve lives through results based relationships. The company specializes in three key areas; PPC management, site testing and optimization, and analytics.
Chris envisions a world where every business tests their ideas, where touching a computer screen doesn't leave a fingerprint, and where lightsabers are real. He is always pushing the boundaries of A/B testing and disrupting the website design space. His story is truly amazing, so stayed tuned as Chris teaches us about conversions, where to get your website traffic from and how to capitalize on leads.
Key Points From This Episode
When Chris first knew that it was time to start his own company.
The importance of setting specific goals and giving your all to an opportunity.
Understanding the idea of A/B testing and conversion rate optimization.
Challenges Chris faced when he first started his business.
Developing the skills to transition towards growing your business.
How Chris used mediation to process every challenge in his life.
Knowing when to hire people to support the growth of your business.
Focusing on creating processes and systems to successfully delivery consistent quality.
Successfully navigating a merger and making a significant impact.
What Disruptive Advertising offers and Chris' role within the company.
Understanding the value of capitalizing on conversion rate optimization strategies.
Using Facebook marketing to build awareness around your product.
Taking advantage of retargeting and create conversions for your business.
Understanding what a conversion means for different companies.
The benefit of testing to determine the most effective marketing message.
The best strategy for split-testing; what works best for your business.
Retargeting and remarketing from a PPC standpoint; Facebook and Google.
Tweetables:
[spp-tweet tweet=""To me, a good lifestyle is not just making good money, but being able to enjoy my life." — @Chrisdayley"]
[spp-tweet tweet=""If you don't already have that entrepreneurial drive and spirit on your own, it's hard to develop that." — @Chrisdayley"]
[spp-tweet tweet=""When people get confused and distracted, they don't convert." — @Chrisdayley"]
Links Mentioned in Today's Episode:
– Before The Millions Facebook
Access The Best Strategies, Tips & Advice!
Every week, we send an email sharing my best advice, tips and strategies related to Real Estate Investing. Each of these weekly emails contain relevant and actionable information that can help you no matter where you are in your investing journey.