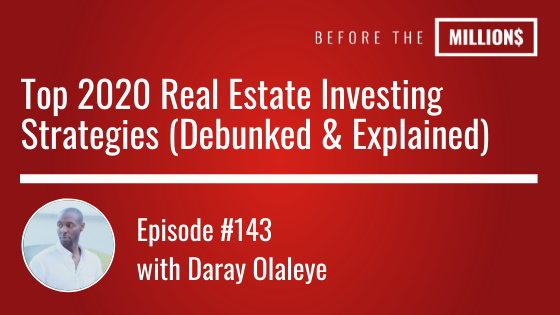 What are the top strategies that new real estate investors should look into this new decade:
Flipping?
Rental properties?
Apartments?
Wholesaling?
Or creative strategies like Owner Financing?
Subject-to?
or maybe even a tenant buyer strategy or two?
On today's episode, not only will we take a deep dive into each of these strategies but we'll discuss what's working in 2020 and how to select a vehicle based on your goals, experience, resources and timeline.
This is a fun filled jam packed episode that is going to expand your thinking when it comes to risk and no money down strategies in real estate as well as serving sellers and buyers as an investor while still making massive profits.
Key Points From This Episode:
What the Motivated Seller Method (MSM) is and how to implement it today
How to profitably overpay for properties
How to get a deal done with any seller in any market
Massive profit exit strategies for your investments
The idea of serving
How Daray navigated through these strategies in the past 4 years
Another way to use OPM (Other People's Money)
How to structure 3 large paydays for every deal
Cash Flow vs. Lump Sum Cash and how to get both simultaneously
Links Mentioned in Today's Episode: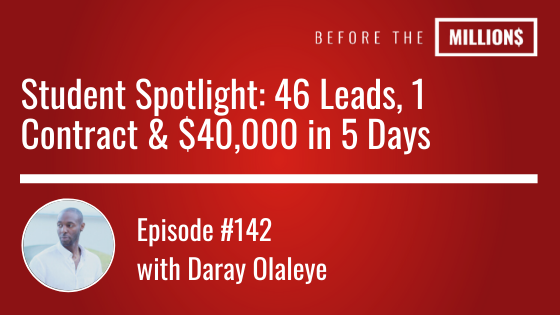 Today's episode features one of my very own coaching clients who just got started building his real estate empire.
We go behind the scene of one of our private one-on-one coaching calls to show you the strategic planning that goes behind the 40K checks on the deals that we do.
You will also get to witness a live seller call smack dab in the middle of my coaching session with Josh. This live seller call will be invaluable to your understanding of an initial call with a homeowner and negotiating tactics.
Josh, today's student spotlight, and all of the Before the Millions coaching clients are building up their real estate empire using the Motivated Seller Method, the most comprehensive program for profiting from real estate deals with motivated sellers and the only implementation course of its kind.