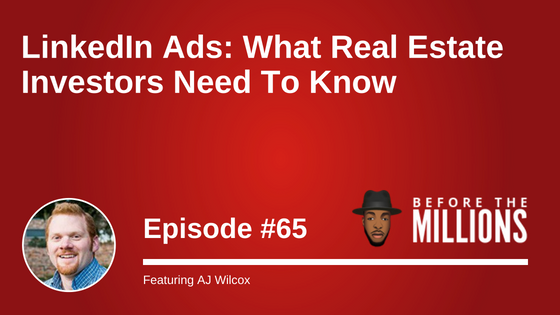 AJ Wilcox is a long-time digital marketer who fell in love with the LinkedIn Ads platform in 2011. He founded B2Linked.com in 2014, which specializes in LinkedIn Ads account management, training, and consulting. Since then, he has managed hundreds of accounts and a combined $100 million in ad spend on the network. He has worked directly with several of LinkedIn's top 10 accounts.
AJ's entrepreneurial journey is deeply rooted in his faith. After he was fired from his last job, he was offered multiple job opportunities. He prayed to God to figure out what he should do and the answer was to turn them all down and start his own business — and he's never looking back!
On today's episode we talk to AJ all things LinkedIN. AJ shares with us how to promote your real estate investing business, tips on growing your thought leadership platform and more. You'll learn how to utilize LinkedIn as real estate investor and entrepreneur.
We discuss what first steps you need to take on advertising on LinkedIn (how to get started and what to consider). We also dive into who AJ was before LinkedIn (college experience, mindset growing up, entrepreneurship journey).
AJ shares his story of how he got introduced into LinkedIn and how he grew investing into becoming the largest LinkedIn customer in the world (by amount spent, size of the account of campaigned they were using. Lastly, we wrap up the episode with some some action steps you can take today to start advertising and building a name for yourself on LinkedIn.
Key Points From This Episode:
How that apparent failure set up AJ of success
How AJ knew that entrepreneurship was the right path for him
AJ considers himself an accidental entrepreneur if he didn't have divine help getting into it
What was the best investment AJ has ever made in himself and business
Bad recommendations from other LinkedIn experts and that's not effective or
Tips and advice to entrepreneurs looking to use LinkedIn as a resource of hiring people
Break down of AMO (audience, message and offer)
How to position yourself as a thought leader on LinkedIn
What is the most effective way to get clicks for your offers (text, picture, video, mini-blog, etc.)
Why LinkedIn is the easiest network to go viral on
Differences of organic reach and advertising on Facebook vs. LinkedIn
Examples of posts you can create to get more reach and shares online
What questions to ask yourself when feeling unfocused
Importance of knowing that people want to do business with people not companies
The # 1 tip you can do today if you have a company and personal presence on LinkedIn to maximize exposure
Links Mentioned in Today's Episode
AJ's Website: B2Linked
Free checklist: 8 Things You Need In Order To Launch Ads on LinkedIn
AJ's Favorite Books: DRIVE by Daniel Pink
Recommended Podcasts:
AJ's Favorite Lifestyle Design App: Calendly: Say goodbye to phone and email tag for finding the perfect meeting time. https://calendly.com/
Access The Best Strategies, Tips & Advice !
Every week, we send an email sharing my best advice, tips and strategies related to Real Estate Investing. Each of these weekly emails contain relevant and actionable information that can help you no matter where you are in your investing journey.