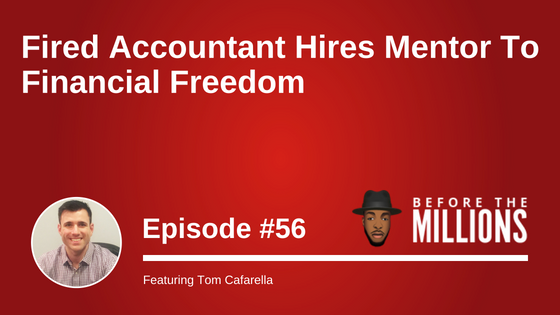 Tom's unique lead generation methods have allowed him to transform from an accountant who had never done a deal in his life to a full time investor who has acquired over 100 discounted properties in to fix and flip, wholesale and buy and hold without using his own money. Tom Cafarella is the co-founder of Ocean City Development, a real estate investment company based out of Boston, MA. Tom has always dreamt of following his grandfather's footsteps. His grandfather was a very successful landlord in his local community. It didn't take long after Tom got fired from his accounting job to get started in investing in real estate.
On today's episode, we talk with Tom about his inspiration to learn about real estate investing. You'll learn how Tom made $115K on his first real estate deal without having any money. Tom shares his story on how he built up the courage to start his real estate investing career after being fired from his accounting job. You'll learn the importance of having mentors to guide you along your journey as an investor. Lastly, Tom shares how to leverage digital advertising and platforms to find motivated sellers and generate leads.
Key Points From This Episode:
The story of Tom's discontentment at his 9-5 job as an accountant
How Tom made $115K on his first real estate investment without having any money
Differences between the cost of having a mentor vs. not having a mentor
The 2 types of people that invest in real estate
Why it took Tom 6 months to land his 2nd real estate deal
Importance of having a real estate strategy and systems in place when finding deals
The #1 thing that prevents people from getting started in real estate investing
How to use Facebook advertising to find motivated sellers and generate leads
Links Mentioned in Today's Episode
Tom's Website: Tom Cafarella
Favorite Book: Rich Dad, Poor Dad
Favorite Lifestyle Design App: Facebook
Access The Best Strategies, Tips & Advice!
Every week, we send an email sharing my best advice, tips and strategies related to Real Estate Investing. Each of these weekly emails contain relevant and actionable information that can help you no matter where you are in your investing journey.