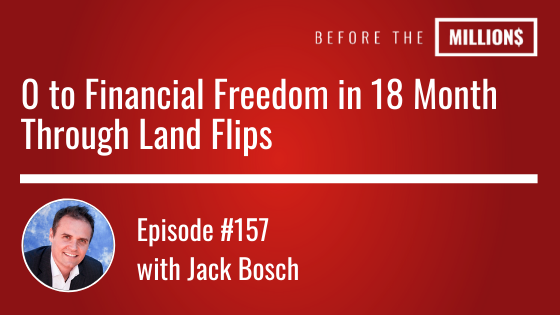 Starting with nothing but two suitcases and a mountain of student debt, Jack immigrated to the US from Germany in 1997. Seeking out his own version of the American Dream, Jack bought and sold over 4000 pieces of property and was able to help build his company into the 3rd largest land investment company in the US.
On today's episode, we discuss Jacks rocket-like trajectory after spending years in corporate america with the same salary year after year. In his first 18 months as a land flipper, Jack amassed his first million dollars and then grew his company to the multi-millions in just a few short years.
Today his family travels 2-4 months a year, designing their business to fit their lifestyle.
Key Points From This Episode:
How to break the earn-spend cycle
Why Jacks immigrant mentality helped pave his success
How Jack made his 1st million in 18 months
Jack's philosophy on Tenants, Toilets and Termites
The biggest reason why most land investors fail
The opportunity for land investing in the next 20 years
Links Mentioned in Today's Episode:
Recommended Book:
Secrets of A Millionaire Mind T. Harv Eker
Listen to this book for free with Audible!
Lifestyle Design App: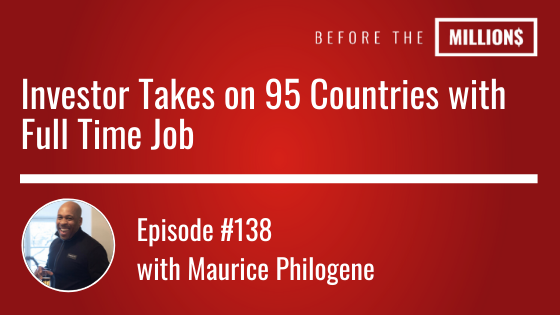 Today's guest, Maurice Philogene is a full-time consultant in corporate america, multifamily investor, restaurant owner, reserve in the US Air Force and police officer.
Maurice is also an avid traveler and has visited over 95 countries to date because of how he's been able to design a lifestyle without limits through real estate and other business ventures.
How does he do it all? How has he created a lifestyle that best suits his wants, needs and desires? Find out on today's episode.
Key Points From This Episode:
The intersection of exposure and discontentment
How to understand your life in days instead of years
How Maurice acquired 10 rental properties in his 1st year
Why owning a restaurant shouldn't be about the money
The power behind social investments
Why Maurice transitioned from sfr to apartments
How to raise your kids to appreciate lifestyle design
Maurice's unique outlook on marriage
Links Mentioned in Today's Episode:
Recommended Book:
Vagabonding by Rolf Potts
Man's Search For Meaning by Viktor Frankl
Listen to these books for free with Audible!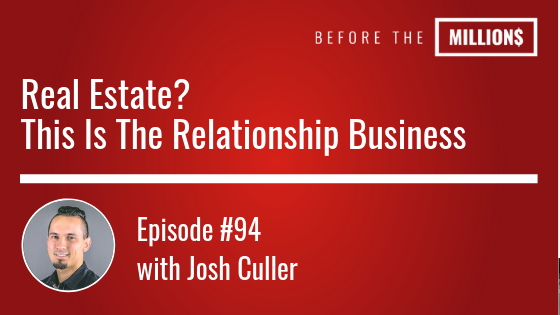 Today we have on the show a millenial by the name of Josh Culler. Josh is a multifaceted entrepreneur with his hands in a few projects such as a media company and the owner of a non-profit charity called Hope & Strength Project. We brought Josh on the show for his expertise with well run masterminds. Although Josh is 25 years old, he has a ton of wisdom to share on the show.
Our discussion today centered around relationships and the importance of making a conscious effort to find the right relationship circle for your goals. As entrepreneurs and real estate investors, it's easy to get off course but there have been a few hacks along the way of the successful the ensure they reach "good success" status.
Key Points From This Episode:
Josh's 1st divine encounter
The power of relationship building
The masterminding phenomenon broken down
How to work hard, smart and still find time to spend with family
Links Mentioned in Today's Episode:
Before the Millions Book:
The Richest Man Who Ever Lived
The Compound Effect
Listen to this books for free!
Lifestyle Design App: Loop Habit Tracker
Before The Millions Workshop: Create and Grow Your Real Estate Portfolio
Before The Millions Mastermind: Expand Your Real Estate Related Business and Life