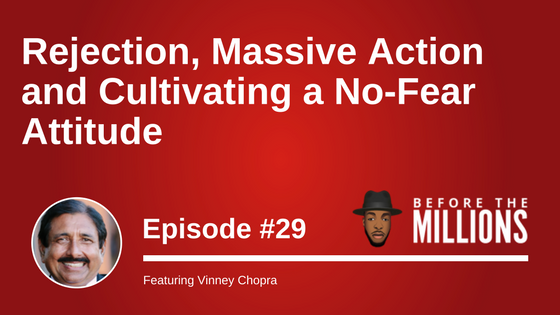 We welcome Vinney Chopra, aka "Mr. Smiles" to the show today. Vinney came to the US as an immigrant with $7 in this pocket and today, has over two million dollars in assets! Vinney grew up in India, with six siblings in a one-bedroom apartment. His first job in the US was selling Bibles and Encyclopedia's door-to-door, he slowly worked his way up, started his own business and is an investor and syndicator in the real estate business. Vinney has participated in 26 syndications and spent 37 years as a fundraising consultant and motivational speaker.
Today, Vinney has just retired at the age of 62 and he couldn't be happier. In this episode, we're focusing on mindset, what it means to take a leap of faith and molding your lifestyle to how you see fit. We find out how Vinney was able to turn $7 into a multi-million-dollar company, hear his philosophies on business and why we need to understand rejection in order to succeed.
Vinney is someone who was handed a specific set of cards and refused to live a life that society pigeon-holed him into living. He broke the barrier, he broke the chains and now, Mr. Smiles is thriving! A fascinating and inspiring story for anyone who has ever thought about giving up.
Key Points From This Episode:
Vinney tells the story of his humble beginnings in New Delhi, India.
How Vinney won a five-year scholarship to become a chemical engineer.
Why Vinney had the urge to come to the USA and make a difference.
How Vinney convinced his Grandpa to let him come to the USA.
Selling Bibles and Encyclopedia's door-to-door: Vinney's first job in the US.
Discover how Vinney came to value the importance of understanding rejection.
Going back to the basics and learning the fundamental techniques.
Find out how Vinney worked his way up in his first door-to-door sales job.
How Vinney got into motivational speaking, fundraising and real estate.
Why Google, podcasts and books are Vinney's biggest mentors.
Retiring at the age of 62 and what a balanced lifestyle means to Vinney.
Discover how Vinney runs his company and manages employees today.
Why you should always smile.
Tweetables:
[spp-tweet tweet=""My grandpa paid for my ticket and I brought $7 and myself into the US." — @vinneychopra "]
"Understanding rejection is the number one thing in life. Many times, people give up [spp-tweet tweet="too quickly." — @vinneychopra"]
[spp-tweet tweet=""I do not spend a lot of time in front of the TV… Books have made me who I am." — @vinneychopra"]
[spp-tweet tweet=""You have to show sincerity, have the high moral standards and the integrity. That is where you build it." — @vinneychopra"]
Links Mentioned in Today's Episode:
Vinney Chopra Website – http://www.vinneychopra.com/
How To Win Friends and Influence People by Dale Carnegie
The Magic of Thinking Big by David J. Shwartz
Sign Easy App – https://www.getsigneasy.com/
The Power of Now by Eckhart Tolle
Access The Best Strategies, Tips & Advice!
Every week, we send an email sharing my best advice, tips and strategies related to Real Estate Investing. Each of these weekly emails contain relevant and actionable information that can help you no matter where you are in your investing journey.