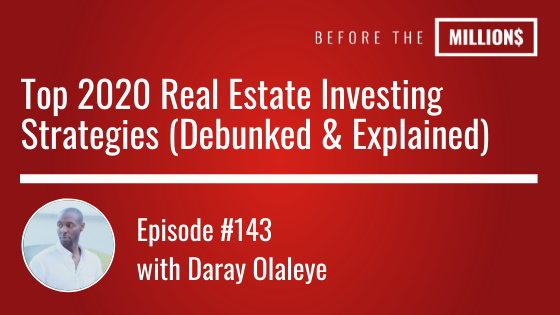 What are the top strategies that new real estate investors should look into this new decade:
Flipping?
Rental properties?
Apartments?
Wholesaling?
Or creative strategies like Owner Financing?
Subject-to?
or maybe even a tenant buyer strategy or two?
On today's episode, not only will we take a deep dive into each of these strategies but we'll discuss what's working in 2020 and how to select a vehicle based on your goals, experience, resources and timeline.
This is a fun filled jam packed episode that is going to expand your thinking when it comes to risk and no money down strategies in real estate as well as serving sellers and buyers as an investor while still making massive profits.
Key Points From This Episode:
What the Motivated Seller Method (MSM) is and how to implement it today
How to profitably overpay for properties
How to get a deal done with any seller in any market
Massive profit exit strategies for your investments
The idea of serving
How Daray navigated through these strategies in the past 4 years
Another way to use OPM (Other People's Money)
How to structure 3 large paydays for every deal
Cash Flow vs. Lump Sum Cash and how to get both simultaneously
Links Mentioned in Today's Episode: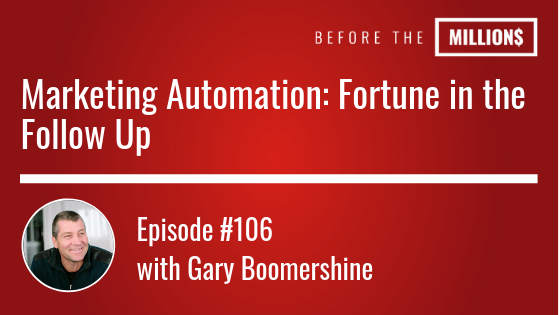 With a family legacy in the real estate niche, and a long successful career in enterprise and emerging technology markets, Gary Boomershine noticed the glaring opportunity to leverage people, processes and technology to gain a leg up in a changing and competitive marketplace. As he worked to develop and use the initial product and service, he saw his real estate business flourish by allowing him to work smarter – not harder and focusing on the one thing that makes money – talking to sellers and making offers.
On today's episode, we talk with Gary about scaling our real estate business, more specifically through our sales and marketing efforts. We talk heavily about lead capture, lead management and lead follow up. The fortune in this industry is in the follow up so this episode is gold for building a great follow up system.
Key Points From This Episode:
Making money vs. being wealthy
How to calculate your hourly rate
What is OPT, OPE and OPR
How a CRM can benefit your Real Estate Business
Links Mentioned in Today's Episode:
Before the Millions Book:
Traction by Gino Wickman
Samurai Selling by Chuck Laughlin
How I Raised Myself From Failure to Success in Selling by Frank Bettger
Listen to this books for free!
Lifestyle Design App: Workflowy
Special gift from Gary and Daray for the BTM listeners – Click here!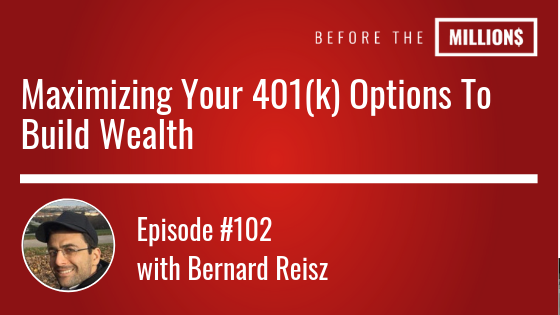 The 401K world has always had a big question mark around it. On this bonus episode, Bernard and I discuss the pitfalls of a traditional 401K and how you can take control of your retirement funds to maximize your wealth.
Key Points From This Episode:
401k vs IRA, which should you have?
How to maximize your retirement match
I'm about to graduate college, how should I invest?
What 2 things should look for in a service provider
Links Mentioned in Today's Episode:
Before the Millions Books:
What They Do With Your Money
Lifestyle Design App: vCita
Free Training: Building A Lifestyle Business Through Real Estate Investing