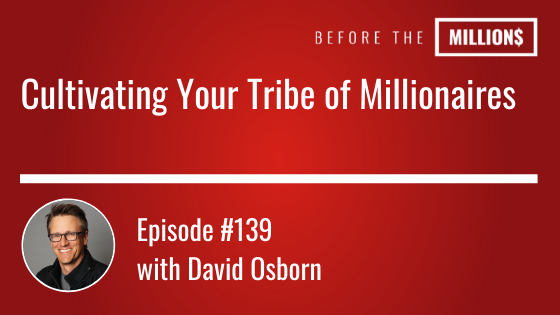 On today's show we have on the author of Wealth Can't Wait, Miracle Morning Millionaires and the new Tribe of Mentors as well as the founder of the sixth largest brokerage in the world, David Osborn.
Asking WHAT is missing in your life won't get you far, but asking WHO is missing is a game-changer. Tune in to this episode for a better understanding on how to cultivate your tribe of millionaires.
Key Points From This Episode:
Why David wrote 'Wealth Can't Wait'
A directive to attend your 1st Tony Robbins conference
How to harmonize with the vibration of success
Why masterminds are so effective
A vicious cycle vs. a virtuous cycle
Winning the morning to win the day
David's miracle morning routine and 2020 goals
Why everything changed when David met Pat Hiban
The 6 Effects of an Abundant Life
Links Mentioned in Today's Episode:
Recommended Book:
As A Man Thinketh
Think and Grow Rich
Listen to these books for free with Audible!
Lifestyle Design App: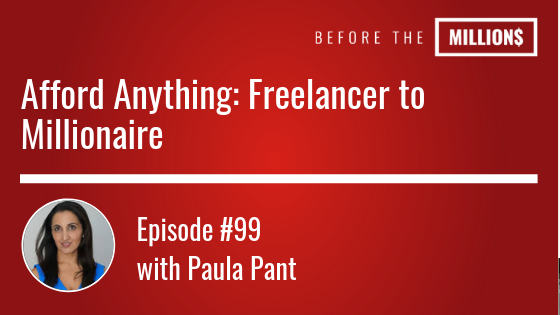 Today's guest, Paula Pant, a freelance writer (but actually much more) started out making $21,000 a year in 2005.
With a knack for saving and a frugal lifestyle (even sometimes sharing a 3 bedroom apt with 5 roommates), she was able to save a whole years worth of money to travel the world and backpack in Europe with a cost of living less than 1k per month. When she returned back to her dreaded job, she realized that things could never be the same after such an amazing experience.
Paula went from freelance writing as a hobby in 2006 to a full time writer in 2010, writing for some really big outlets. 18 months later Paula had a 6 figure income and said good riddance to her JOB (Just Over Broke).
One of the biggest value-bombs dropped on the episode was a moment we were discussing the sacrifice to save, simple but profound – it boils down to how bad you want it. "The more roommates you have, the cheaper rent gets". Paula practice this until her rent was just $200, at which point she could save heavily.
Today Paula is a millionaire in every sense of the word. As a thriving real estate investor and writer she gives us a ton of advice to pursue an afford anything life.
Key Points From This Episode:
Why Paula bought a one way ticket to Egypt
How Paula spent the next 2 years backpacking in Asia and Australia
How Paula was able to save 25K only making 21K a year salary
Why it "pays" to be a digital nomad
How you can use freelancing to fund your real estate dreams
The benefits of house hacking at any age
Links Mentioned in Today's Episode:
Before the Millions Books:
Millionaire Next Door
7 Habits of Highly Effective People
Rich Dad Poor Dad
Stumbling Into Happiness
The Power of Habit
Listen to this books for free!
Lifestyle Design App: Wunderlist
Life-Hack: Run Your Own Business!
Free Training: Building A Lifestyle Business Through Real Estate Investing